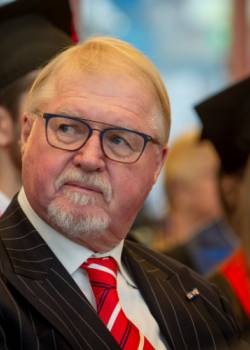 "I Have Never been Bored in my Life and I don't Intend to Start Now"
Today we speak to Dr Jan-Albert Dop, Wittenborg's Vice-President: Corporate Affairs, as part of our series of interviews with staff and students on how they are adjusting to life during the COVID-19 pandemic.
How do you stay positive?
The fact that I am with Myrna, my companion of over 50 years. We have a lot of experience working together as a business, so a home office situation is nothing new. What more? I have two children, each with a partner and two children, who are coping well, and who we see online and in person from a distance fairly regularly. We have brothers and a sister, friends and neighbours we are in contact with, here and all over the world. I always expect the worst but am absolutely delighted if and when things turn out to be a little less bleak than I thought they would be. Other than that, I'm always a very positive person. I love life and all it has to offer us. I have never been bored in my life, and I don't intend to start now.
What are some of the changes you had to make to accommodate the new reality?
Nothing really, I've always had my own study, and I have computers, laptops and tablets all over the place.
How are you spending your free time in self-isolation?
As always, cooking, reading, listening to a vast range of music, watching films, drama and manga, going cycling, walking, and when it's just a little warmer, I'll be getting back into my kayak on a regular basis.
Have you developed any new hobbies?
No plans for new hobbies (yet). However, for some existing hobbies, like reading, I now have more time for them. Here is where looking on the bright side of things comes in.
What are some of the things you now realise you took for granted?
Being able to meet family and friends, going out and having a beer with old friends, travelling to France to have wine with other old friends and family, that sort of thing.
WUP 06/05/2020
by Jame Wittenborg
©WUAS Press