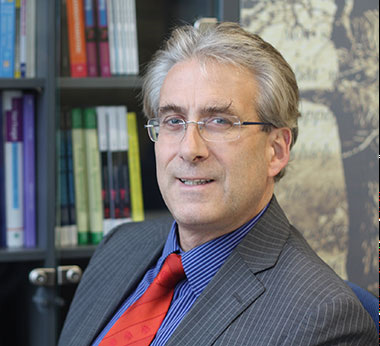 When the Dutch go to vote on Wednesday, 15 March, the management of WUAS will be following the outcome of the election carefully: As an international, private institute of higher education, its operations are very much tied to the political tide in the Netherlands.
"If a far-right government was to be elected in the Netherlands, that would have a negative effect on its immigration and education policy," says Wittenborg's chair of the executive board, Peter Birdsall. "It would be detrimental to international student intake and our development as an international institute."
There is currently a lot of, what Birdsall calls "scaremongering" going on, but he is comforted by the idea that the Dutch political system is such that "no extremist idiot" can take power.
He is of course referring to Geert Wilders, leader of the one-man PVV party which has taken the lead in many of the pre-election polls. A rare feat for someone who seldom makes public appearances but instead reigns over his supporters from the safety of social media platforms.
Birdsall sees Wilders' peroxide blonde hair as a symbol of the falsehoods he's spreading. "He does that to stand out, to make an impact. Not to show what a good debater he is on world issues. And that's the frightening thing. Whenever politicians start walking around like popstars, that's when you have to start worrying.
"Wilders is scaremongering the world, really, which is why he receives so much international press. Last time I looked at the PVV website, the headline screamed: 'Stop Islam'. I mean, there's nothing rational about that. If I were to put something unthinkable, like 'Stop Jewism' or 'Keep Blacks Out' on my website I'd be (quite rightly) locked up in prison."
Birdsall, who has been living in the Netherlands for almost 30 years, appears to be as baffled as the world's media on how a far-right politician like Wilders could become so popular in the Netherlands – a country seen for many decades as one of Europe's most liberal and tolerant.
"When I first came to the Netherlands it was a very liberal and open-minded society." Is that what attracted him? "Yes, of course. I mean, I came from Thatcher's Britain. The liberal politics of the Netherlands is very attractive and it makes it a nice country to live in."
"Now people are voting on the basis of populism and not on the basis of rationalism. I think in every society there is an underlying populist vote."
According to Birdsall people don't seem to connect the dots between globalisation and open societies "Everyone has iPhones and Samsung Galaxies, but they don't relate those iPhones to the other components of globalisation which means open societies."
Neither Birdsall - who has British and Swiss nationality - nor Wittenborg CEO, Maggie Feng, will be able to vote in the Dutch election. Nonetheless, they have strong views on the options available.
Birdsall says: "I hope for a government who will protect entrepreneurs and business people…"
In other words, the VVD?
"I think we had a good prime minister in Mark Rutte from the VVD and a very dynamic minister of higher education, Jet Bussemaker (PvDA) who has indicated she would be interested to continue in that role. She has been good for Dutch education and good for Wittenborg.
"The most important policy she pushed through at the end is one that will open the way for transnational education. Once it is passed by the First Chamber, it is going to have a significant impact on our opportunities to run Dutch higher education in other countries. Currently, with any programme you offer abroad, students have to spend 25% of their programme in the Netherlands. With the new proposed law, you will be able to offer the full programme abroad."
But what about the controversial loan system which was introduced under Bussemaker's watch. Was that a good thing?
"For us it's great. It means Dutch students can borrow money to study at Wittenborg and it levels the playing field between European and non-European students. What's interesting is that this concept that everybody should pay for their education is a conservative policy, yet she's from the labour party. I'm a great believer that free education is poor education. If you don't pay for your higher education you don't appreciate its value, and the providers continually have to cut costs in order to make ends meet - which lowers the quality (of the education provided)."
Wouldn't that exclude huge sections of society?
Not if the electgovernment has a good loans policy . So you only pay back if you can afford to pay back. In countries where education is free, they have massive drop-out rates."
Where should the money that government saves be invested in?
I think it should be invested back into other parts of society or higher education itself. All education is generally underfunded. For instance, it can go to facilities or to fund lifelong learning initiatives."
Do Wittenborg's international students consider Apeldoorn a tolerant city?
"I think one of the reasons we might be so successful here is because Apeldoorn does seem to have a very tolerant attitude toward its international communities. I mean, we don't get regular feedback on intolerance. That doesn't take away the fact that certain groups of students do feel that they are looked upon as immigrants as it were. I think the majority of Apeldoorners have and will vote much more in the centre. As for the rest of the Netherlands, I hope good sense will prevail."
WUP 12/3/2017
Interview by Anesca Smith
©WUAS Press