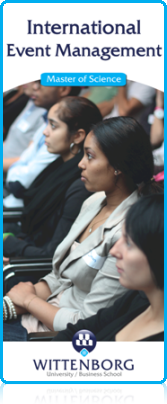 The Master of Science (MSc) in International Event Management is a broad Master programme that is open to all students with an business or economy based first degree. It looks at the role of an Event Project Manager from an international perspective, taking into account a broad role of innovation and implementation. For instance, the programme allows direct entry to students with a University of Applied Sciences (HBO) Bachelor degree in a related field. As the programme offers a wide range of modules from Project Management to Innovation and Globalisation to Fund Raising, it is suitable for a wide range of direct entry graduates. Although the programme offers a higher degree perspective to students from service sector education backgrounds, such as those with a degree in Tourism, Event Management, or Hospitality Management, it is also a good alternative specialisation for International Business Administration graduates who are looking to diversify their qualifications and so enhance their career opportunities.
Graduates from the MSc programme in International Event Management will be a valuable asset to companies and organisations in many sectors not just the Events and Entertainment sector, although this is an ever growing and currently booming industry worldwide. In the past years, event management has become one of the most important factors in a company's marketing and branding strategy with recent research showing that many organisations spend up to 7% of their annual marketing and branding budget on organising and attending corporate events and exhibitions.
Event managers are seen as all-round, pro active members of a project team, often involved in projects from the pre-conception through fundraising to eventual execution. A project and event manager will be pivotal within the company, working with different levels of staff and management from different areas in the organisation. The Event Project Manager will be required to understand the developing project from the perspective of finance and human resource management, and from local and international social responsibility, taking into account the views and wishes of all stakeholders.
For more information about the Master of Science programme in International Event Management please see the Event and Project Management Pages.
The Master programme can be followed in 1 or 2 years depending on a student's choice of full time or part time study combined with work and students are registered at both WUAS and the University of Brighton, in order to give students the maximum access to facilities and services.
WUP 08/05/2012