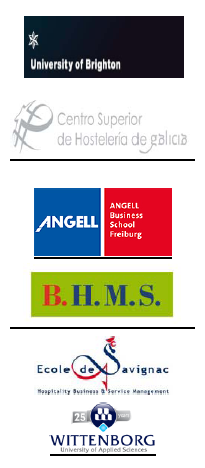 From September 2013, WUAS will offer a 3 year BA programme in International Hospitality Management, during which students will study at 3 different European institutions. Successful Wittenborg students will also be awarded a Bachelor in International Business Administration (Specialised in Hospitality Management), as part of this unique double degree programme.
At a meeting of the The European Academy of Hospitality Management Steering Group, held at the Centro Superior de Hosteleria Galicia at its campus in in Santiago de Compostela, Spain, the participating institutions came to agreements on issues such as entry points and marketing the BA award in International Hospitality Management. All participants of the consortium of 6 European hospitality management institutions who will offer this unique European Bachelor in International Hospitality Management were represented.
The Euro BA is a 3 year Bachelor of Arts, awarded by the University of Brighton, and students on the programme will study in at least 3 countries, possibly 4. For instance, a student will be able to follow the first year in the Netherlands, complete the second year in Switzerland, follow 1 semester in the UK, before finally graduating in either Germany or France. The Netherlands and Switzerland will both offer year 1 and 2 and second year students also have the option of completing their year in Spain.
On the Euro BA students will be able to study the following European Academy of Hospitality Management institutes:
Angell Business School (Freiburg, Germany)
Benedict BHMS (Luzern, Switzerland)
Centro Superior de Hosteleria (Santiago de Compostela, Spain)
Ecole Supérieure Internationale de Savignac (Savignac, France)
University of Brighton, (Brighton / Eastbourne, United Kingdom)
WUAS (The Netherlands)
At present, there will be one intake per year, and Wittenborg will offer the Year 1 (level 4) and Year 2 (level 5) as of September 2013.
For more information regarding application to the 3 year European Bachelor of International Hospitality Management (BA) please contact admission@wittenborg.eu
WUP 04/11/12
© WUAS Press