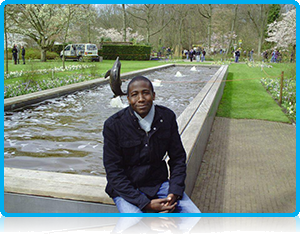 Wittenborg is a truly business-minded university, the combination of theory and practice also inspires students, especially the young and aspirant entrepreneurs. One of them is Ayoub Sadik, born and raised in Tanzania and currently living in Apeldoorn. His new online business-to-business platform will be launched any day now.

Before coming to the Netherlands to study International Business Administration, Ayoub studied IT at the University of Dar es Salaam, Tanzania. Combining the knowledge from both universities, he taught himself how to use the Drupal open-source content manager framework, a software application which he used to build his own website. The webpage carries the name 4city2city.com, and is providing companies an online communication community where they can find other businesses in the African market. "In Africa internet business is rapidly growing, but companies still aren't used to online advertisement." Ayoub explains. This is why he believes his website will be a success, introducing new means of communication and advertisement for Africa based companies. Organizations can create and manage their own profile on the website whilst communicating and interacting with other organizations in the African continent.
With support from his tutor, and Wittenborg systems management, Ayoub was able to get the website and his business plan ready within a year, during his final year studies. Once the website is online he hopes to generate initial revenue by charging companies for the services and advertisements. When the current format shows to be successful, Ayoub plans to introduce new features like a web shop and a special offers page. After his graduation he will return to Tanzania to expand his online business. The site has been developed under the supervision of Wittenborg Network's Lyniks Systems and a preview can be found at www.lyniks.com.
WUP 21/5/2013