Who are the new CEO's of tomorrow? Wittenborg's Business Development Advisor, Ben Prins, believes they will be students trained at institutes anticipating the new industrial revolution, Smart Industry, and preparing their students accordingly.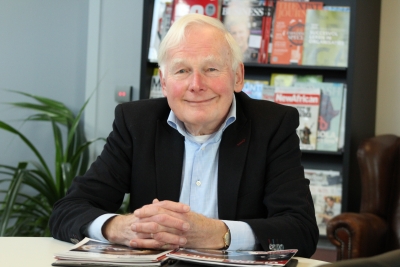 "Eat or be (b)eaten," is Prins' stern warning to governments, companies and institutes of higher education that have until now been slow on the uptake. He believes if they don't act now, their economies will not be fit for the future. "It is unavoidable. ICT is the most important driver for production growth."
Never heard of Smart Industry?
Also called the 4th Industrial Revolution, Smart Industry is essentially the digitisation of industry, the growing use of production technology and a network approach. Think of Robotics, 3D printing and Big Data. In other words, a smarter way to make things.
The Global Information Technology Report 2014 shows that while the Netherlands is doing extremely well in ICT, the adoption of new technology can be improved. It also noted that ICT is being used more and more by companies in their contacts with consumers rather than for business to business transactions.
"People still have only a vague idea of what industrial robots can do for their business," Prins says, who also runs his own consultant company, PMC, in addition to his involvement in getting the education sector - especially universities of applied science - up to speed. "People still think of robots as little animated machines playing with the dog. They don't know that a robot can help you with packaging, in ICT, the health sector and even, not so far in the future, at home."
Is education catering for business needs?
Prins believes the education sector has a crucial role to play in preparing students for the fourth industrial revolution. "We should start in education," he emphasizes.
A few institutions have taken up the challenge, including Wittenborg. It is working on a programme aimed at bridging the gap between the innovators of new technology and business managers. Rapid progress has been made and Prins estimates the programme will be introduced in 2017. "We need people who understand both the technical aspects as well as the management side of smart industry. Many companies have their technical engineers, but the latter do not necessarily have sharp business instincts. Or you have innovators who don't know how to market and sell their own innovations. This is where training institutes like Wittenborg come into play."
Prins also believes it is easier for small institutes like Wittenborg to adapt to the changing needs of industry because they can implement changes quicker and have shorter communication lines. However, he insists that industry must be involved in the shaping of content in education so students are properly equipped for the needs of the labour market once they graduated.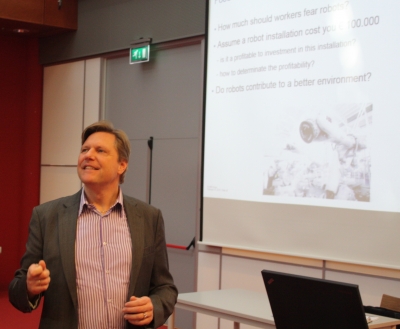 After being introduced to Wittenborg by Prins, the Sales and Marketing Manager of ABB Robotics, Martin van der Have, did a Project Week presentation in 2015 at the university giving a fascinating lecture on the use of robotics in industry. ABB is a leading supplier of industrial robots, modular manufacturing systems and service and have worked with Prins since 2008. He, together with Wittenborg's CEO, Maggie Feng, is also working towards a cooperation agreement between Wittenborg and the Robotics Experience Center in Almelo.
More robots, higher unemployment?
Prins thinks there is still a fear lurking in society that as industrial robots are used more and more, it will lead to higher unemployment. "Especially the unions have trouble with that. But they are wrong." The Smart Industry Report, which explains Smart Industry in the Dutch context, predicts that although automation might lead to initial job reduction, it will not necessarily mean an overall reduction. "History tells us that an increase in labour productivity, tends to lead to additional jobs in other places. Like the manufacturing of the robots that facilitates the automation. A recent ITIF study predicts an increase of about 150 000 jobs in this sector in the US market alone.
"What is certain is that not acting on the opportunities that Smart Industry offers, is very risky. If no action is taken, the Netherlands will lose its competitive innovative advantage. Industrial activities will be shifted to other regions in the world that are more suited to competing on labour costs, resulting in job losses. What is also to be expected is a shift in the demand for the type of worker in the Smart Industry. Although semi-skilled personnel will still be needed, it is expected that fewer of these jobs will be required. Our industry is already facing a shortage in the supply of highly skilled technical workers. Education also does not seem to fit the requirements of the manufacturing industry," the report reads.
Source: http://www.smartindustry.nl/eng/
WUP 18/2/2016
by Anesca Smith
©WUAS Press