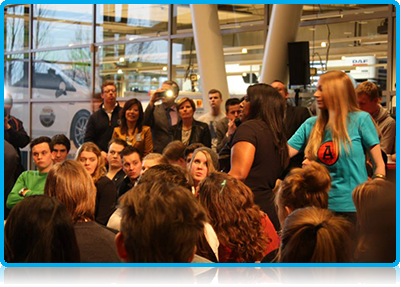 Netherlands Premier keeping in touch with Wittenborg Students - Dutch prime minister, Mark Rutte, exclusively invited Wittenborg graduates last night to contact him and elaborate further on the obstacles they face in the Dutch labour market upon completion of their studies in the Netherlands. The 47 year-old Rutte, leader of the VVD political party, was visiting Apeldoorn, the Dutch city where Wittenborg is located, ahead of the local government election and to interact with students in the region.
About 400 Dutch students, lecturers and other stakeholders from the region attended the two-hour long meeting with Rutte which was held in the ROC Aventus building which it shares with WUAS.
Also, several international students and graduates from Wittenborg took part in the debate, which was led by Joost Hoebink from the Dutch Debating Institute.
Rutte was thoroughly quizzed by international students from WUAS
One graduate from Wittenborg, Anesca Smith from South Africa, questioned how serious the Dutch government really is about attracting and retaining talented, international students.
"It seems you have all these good intentions, like the 'Make it in the Netherlands' action plan, but graduates still face huge obstacles in the job market," Smith said, citing restrictions such as companies having to pay in excess of 5 000 euros if they wish to employ a knowledge migrant and the restrictions on non-EU students who wish to work part-time while studying.
Rutte replied: "We are very serious about retaining talent. Obviously there are obstacles. We have many students in higher education, including many foreign students, but we have very competitive rulings in the Netherlands. Both for companies and foreign individuals
who come here it is expensive to work. I myself, when I am traveling abroad always meet companies and people who are contemplating coming to the Netherlands to work and study here or to build a company here. We need the influx of talent people."
Hoebink then interjected, asking what the government is doing to make it easier for companies to employ foreign students.
Rutte said to his knowledge it is relatively easy to be employed in the Netherlands but conceded companies have to pay a certain amount if they want to hire outsiders. He did point out however that the amount is lower for those who studied in the Netherlands then for professionals coming from abroad.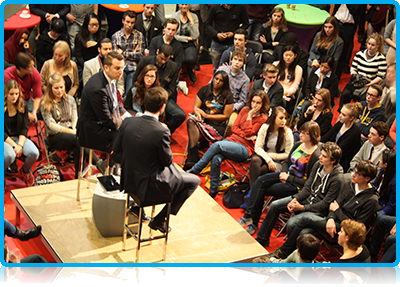 Another Wittenborg student, Edmond Punungwe from Zimbabwe wanted to know which policies the Dutch government will put in place to balance job opportunities between Dutch and international students.
"In an open economy it is very difficult to plan for that type of balance," Rutte said.
Good-humored, he also entertained students who questioned him about the path that led him to prime ministership. "(It) was not planned, but probably a hidden ambition!"
"My party would normally not typically be able to fill the candidacy for prime minister because we would be the second or third party in the polls."
"When you are in politics, you at most hope to be a local alderman or maybe mayor because in these jobs you have more possibility to achieve the things you want to achieve (politically). I worked in business for 10 years and my idea was to get a seat in parliament when I was 50. I was 35 when I was asked to become a junior minister."
WUP 20/2/2014
by WUP & Anesca Smith
©WUAS Press