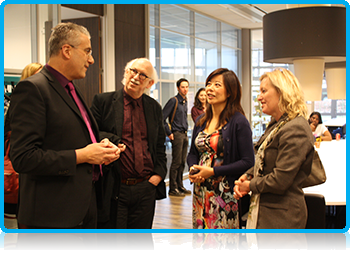 Speaking to management and students at the Wittenborg campus today, Minister Jet Bussemaker was given a taste of international education in the Netherlands.
Minister Jet Bussemaker, Alderman Johan Kruithof, and local Labour Party council candidate Marga Jonkman visited WUAS today as part of the Dutch labour party's campaign in the local elections that take place in the Netherlands on the 19th March. Jet Bussemaker is the national Minister of Education, Science and Culture, and has a special reason to visit Wittenborg as she is responsible for accredited higher education in the Netherlands.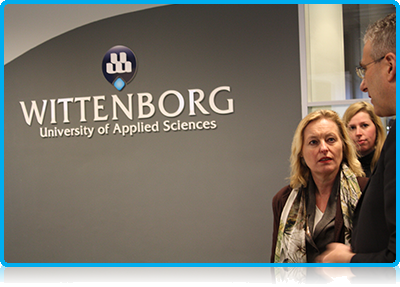 During the visit, Minister Jet Bussemaker spoke to WUAS's Executive Board, about the concept of an English speaking international University in the Netherlands, unique in many ways, and later she spoke to a mix of Wittenborg students, representing more than 15 different nationalities.
Local alderman, Johan Kruithof, was extremely pleased with the visit, as he saw the opportunity to show what different aspects of higher education in Apeldooorn has to offer, and how the local government is especially doing all it can to make international students welcome to Apeldoorn. Minister Jet Bussemaker also visited the other University of Applied Sciences in Apeldoorn, Saxion.
WUP 3/3/2014