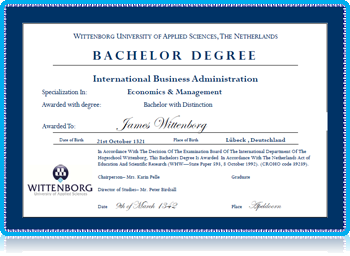 In 2009 the Dutch government's education inspection warned against so-called "diploma mills" and started the implementation of a diploma register, with a view to the registration of all degree's issued in the Netherlands under the Act of Higher Education. The register will be opened on 1st November 2012; however initially at least, will only contain details of degrees issued by the funded Universities and not the non-funded, privately funded institutions.
This is due to the fact that funded institutions are required to register their students centrally in order to receive funding, and naturally non-funded institutions do not, leading to a data collection problem, that still remains to be solved.
According to a report on Nuffic's online Transfer Magazine, (20/09/12) it is claimed that the register will be able to show if a student has received a valid document from a recognised institution, however, the article also gives the impression that the register is to combat the use of private "diploma mills". The very fact that thousands of legitimate and valid graduate diplomas from the more than 40 non-funded higher education institutions will not be included actually keeps the door open for misuse of the newly created register, as employers and educators will still not be able to guarantee all diplomas are included.
Earlier this year, Wittenborg had contact with the State Secretary for Education, Halbe Zijlstra regarding this matter and was assured by him that there would be clear communication regarding the diploma register and he clarified that the register would not be complete, as many students from both non-funded and funded institutions would not be included.
Secretary Zijlsra guaranteed that communication from the ministry of education's organisation "DUO" surrounding the diploma register would ensure that a clear indication would be given of the status of the register, ensuring that even if a student was not on the register that employers and educators were aware that this was probably because of legitimate reasons, such as having studied at a privately funded Dutch University.
WUAS provides clear European standard diploma supplements with all degrees awarded to students, and personalised references are available on request of employers and education institutes.
Through its membership of NRTO Wittenborg will continue to argue for an all-inclusive diploma register that is clear and transparent to all users.
WUP 25/09/2012
©WUAS Press
Sources: http://www.transfermagazine.nl/nieuws/onderwijs/diplomaregister-dit-najaar-beschikbaar