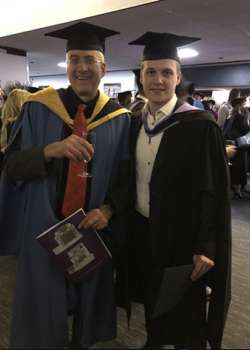 Double Success for Dutch Alumnus Raymon Driessen
It is always a proud moment to hear of the successes of Wittenborg alumni – one of those is Dutch graduate, Raymon Driessen.
Driessen graduated with an IBA in Entrepreneurship & Small Business from Wittenborg in February 2016 and has not looked back since. Currently, he is working as an assistant account manager at Dutch bank ABN AMRO – one of the best performing banks worldwide in terms of sustainability. He has also just graduated from the University of Brighton's School of Business with an MSc in Management & Entrepreneurship.
At Brighton's recent 2018 Graduation Ceremony in the UK, Driessen caught up with Wittenborg's chair of the executive board, Peter Birdsall, who was supporting Wittenborg MSc students as they received their diplomas from Brighton as part of a joint programme between the two institutions.
What are his plans for the future? "I want to get some experience in the financing sector in which I am currently working. I want to understand the financing side of owning a business. At the moment I am an assistant account manager at ABN AMRO and following a programme in the financing sector to become an account manager. My other goal is to gain some managerial experience before setting up my own company."
On his time as a student in the UK he says: "The culture in the UK is very different than in the Netherlands. More than I expected. The people are extremely friendly and helpful. On campus I stayed with a lot of British students so that was great. It feels good to be a graduate!"
WUP 27/2/2018
by Anesca Smith
©WUAS Press