(by WUAS Lecturer, Bob Dyson)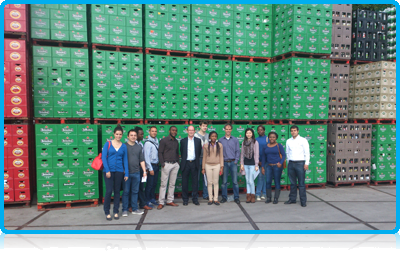 As part of the module distribution and transportation, 16 Wittenborg students registered for a study visit to the distribution center Dekamart in Appeldoorn. This DC handles the distribution of non-perishable products for both Dekamart and Dirk van den Broek supermarkets in the Apeldoorn area of the Netherlands.
Employing a total of 68 full and part-timers, they handle between 300 and 500 pallets per day and can store between 1250 and 4500 different articles.
Mr. Marco Kamperman, the DC's manager explained the whole process to the students and was able to answer their numerous questions.
The re-cyling system for glass, plastics and carton was of particular interest and brought the whole process of sustainability into focus for the students.
As one student said "The visit was really interesting. Having read about and discussed the whole theory of logistics, order-picking, routing, stock control systems etc, we were able to actually see the whole process first hand". Another student added that the visit made the whole module come alive for her.
One of the students was so impressed by the organisation that she promptly applied fora n internship to do her graduate assignment in this field.