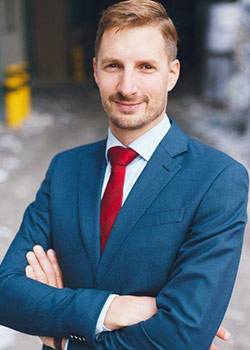 Top Advice from Business Owner Makes up for Loss of Pomp at Wittenborg Graduation Ceremony
Due to the COVID-19 pandemic, Wittenborg's latest group of graduates could not walk across the stage on Friday to collect their diplomas or even throw their caps in the air. What they did get, however, was some sound advice from this year's keynote speaker, Marc van Gerrevink – a young, successful business owner from Apeldoorn, who shared some of the tough lessons he learned on the road to having a thriving company, Van Gerrevink B.V.
Van Gerrevink's authentic story of how he came to run a 142-year old recycling company, which tackles one of the most pressing issues of our time, waste pollution, made a big impression on his audience.
According to Van Gerrevink he was in his 20s when his father passed away and he suddenly found himself in charge of a large company. "Our family business is a recycling company, which my great-great-grandfather started in 1879 as a classic paper-making business. When I inherited the company in 2011, I realised that recycling is a very relevant and future-proof business model.
"I was keen, motivated and, being a mechanical engineer, believed everyone understood reason. I thought I could lead a company the way you perform an equation. I was wrong. I had good plans for the future but faced people who did not see the point of changing things, so I had to find a way to convince them. I also had to have difficult conversations, even fights, with people who have worked for the company a long time. They said I was not fit to lead the company and should leave. I was very bitter about this, but still motivated enough to prove them wrong. Therefore, I sought help. I hired a coach to improve my people skills and spoke to more experienced entrepreneurs about my problems.
Don't Be Too Proud to Ask for Help
"There are two lessons I learned from this: One, you have to believe in yourself and what motivates you, and two, the importance of asking for help when you need it. Don't be too proud to recognise your own flaws and lack of experience," Van Gerrevink told graduates.
Pitfalls of Micro-Managing
He also spoke about the pitfalls of micro-managing your employees. "Once I started working at our company I wanted to be involved and have an opinion about everything that was going on. Not only is our company too big for that, but it also drives people mad and demotivates them when the boss wants to be involved in everything. You have to give people room to take responsibility. So don't be a micro-manager and focus on the long-term."
Van Gerrevink said one of the ways he gained more experience was by joining the Apeldoorn chapter of Junior Chamber International. Wittenborg has been involved two years in a row with the organisation's Christmas lunch initiative, where student volunteers bring some festive cheer to lonely senior citizens in the region.
Finally, Van Gerrevink stressed the enormous problem caused by waste pollution and invited students to consider a career in fighting it. "If you decide to work in recycling, you will be doing something good for the planet and make a decent living. If you need advice in this regard, do not hesitate to contact me through Wittenborg."