City of Apeldoorn presents the 'People's Vote' prize at Apeldoorn Business Awards 2018 with announcement that it aims to become the No1 'SME City' in Netherlands
The Apeldoorn Business Awards evening 2018 were held yesterday at a packed out Orphuis Theatre in Apeldoorn. 7 companies were rewarded with the prize, and all runners up were praised for their business, their entrepreneurship and their leadership. Wittenborg was represented by a team of colleagues there to support jury member Maggie Feng (CEO).
Winners included the company behind Apeldoorn's own annual Dragonboat festival, which has grown enormously, as well as local beer brewery De Vlijt. Social entrepreneurs 'Youngster' was awarded and other winners included a traditional bakery, a refrigerator manufacturer and a charity that supports cancer patients in Apeldoorn.
Wittenborg's CEO Maggie Feng has been a member of the Apeldoorn Business Awards 5-strong jury for the past 3 years and has visited many companies every year in a run up to the awards, before making the important decision with her fellow jury members of the winning bids.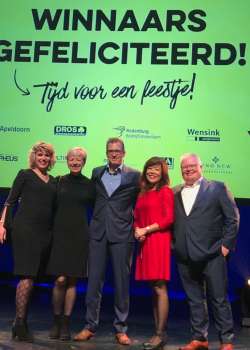 Apeldoorn - a flourishing business and entrepreneurship city!
Apeldoorn has a growing SME economy and according to municipal figures (Gemeente Apeldoorn) offers 94,500 work places, within 5 'top sectors' -
Transport & Logistics - 6,600 places
ICT & Media - 6,700 places
Hospitality & Tourism - 6,800 places
Manufacturing - 8,900 places
Heath & Care Sector - 16,500 places
Furthermore Apeldoorn currently has 12,400 registered companies, 570 hectares of businesses, 625,000 square metres of office space and 8,100 self-employed.
The city has 14,500 further and higher education students, 350 cafes and restaurants and 1,200 hotel beds. It also has two 'centres of excellence'.
Most importantly, the city attracts over 12 million visitors to the city centre per year!
WUP 12/10/2018
By James Wittenborg
©WUAS Press