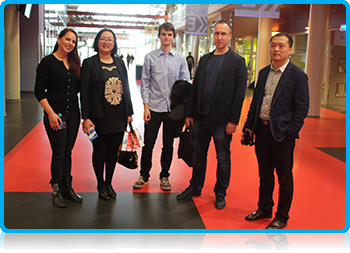 This week, Michelle Song, director at Internship Booking, paid a visit to WUAS to inform interested students about her organization and possibilities for internships in China.
Michelle and her team operate from their head office in Qingdao, a coastal city approximately 700 miles from Beijing. The agency functions as an intermediary between Chinese based companies and international students looking for an internship opportunity in China.



WUAS student Joost Heerkens (Netherlands) has recently finished a 5 month internship in China at the company VKCON, a placement which he obtained with help from Internship Booking. He tells us about his experience with the agency, the internship company and the Chinese culture.



What was your first impression of Internship Booking?

" I have to admit that I was a bit skeptical at first. You're are dealing with an agent on the other side of the world whom you have never met and you have to trust them to short things out for you. Fortunately I realized pretty soon that Michelle was having the best intentions and she really did take care of everything."
What sort of things does Internship Booking arrange for you?

"First of all they will try to find out where your interests lie, what kind of industry you would like to work in and what kind of vacancy suits your educational profile. Once the vacancy has been chosen they take care of the visa arrangements. Once you arrive at your destination (which can be any major city in China) an airport pick-up service is waiting for you. You receive a Chinese phone card so you can contact your family, a card for public transport and the most important phone numbers for your stay. The airport pick-up takes you to the accommodation which has also been arranged by the agency and throughout your stay you can contact the office in Qindao 24/7."
So, once you arrive at your destination you are on your own?

"Pretty much, although the agency does provide training and information on Chinese culture, Chinese language and the Culture of the company you were placed in and the Agency organises meetings and events with other international interns."
What kind of company did you work for and what did you do there?

"I worked for VKCON, a headhunting agency. I was responsible for the communication with big companies like Toshiba, Michelin and Tencent, finding out whether we could assist them with filling up positions and vacancies. It was a great experience through which I have met many different people from middle management to CEO's of several international organizations."
What did you do after work and in the weekends?

"Shanghai offers a lot of great places to go out. I have met Chinese people as well as other Internationals. One tip: do pay attention to where you go since some places are very expensive and charge very high prices for drinks."
Did you receive an internship payment, and if so, was it enough to support yourself financially?
" I did receive an amount of 200 EUR for my first month. In china it is quite normal to be paid a basic amount in the first month. Once your professional level improves they will increase your payment as well. By the end of my internship I was making around 650 EUR. On average I would spend around 100 EUR a week, including eating out almost every night and clubbing in the weekends."
Would you like to go back to China after your experience?

"Yes, I am actually planning on going back to China. I would like to find a job there. In the meantime I am focusing on graduating and learning Chinese, if I want to stay in China for a longer period of time I do have to make sure I actually learn the language."
Do you have any tips for students that want to take up an internship in China?

"Learn some basic Chinese words before you leave and go!"
WUP 14/5/2014
by Nicky van Riggelen