Speaking at a ceremony to celebrate 60 years of the Nuffic, Yang Meng, Vice Secretary General of the China Education Association for International Exchange (CEAIE), explained that internationalisation of Higher Education is a major aim for China in the coming eight years, and that the country expects its population of higher educated citizens to rise to around 195 million by 2020, double the number counted in 2009.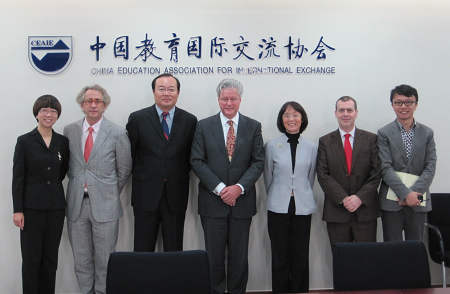 The Netherlands is home to thousands of Chinese students studying at Research Universities and Universities of Applied Science, and the majority of students return back to China to follow their careers. Recently, the new Director of Neso China Visited CEAIE, as the Netherlands steps up its Higher Education Relations with China. From the CEAIE website it is shown that on Oct.18th, Madam Yang Meng and Mr. Zong Wa, Deputy Secretary General, met with Sander van den Eijnden, Director General of NUFFIC, accompanied by Mr. Jacques van Vliet, the Director of Neso China and his successor Mr. Marcus Wilhelmus Bellen, who has taken over the task of running Neso Beijing. Mr van den Eijnden is also Chair of the Board of Trustees of ROC Aventus, the Apeldoorn college in which WUAS is located, and partnered with.
In Early January, WUAS had discussions with staff at Neso, now based in the modern Beijing neighbourhood of Xidan, regarding the promotion of its programmes in China, and the possibilities Neso offers Chinese graduates from the Netherlands in its Alumni programme. Neso staff were positive regarding Wittenborg's development in Apeldoorn and looked forward to working closely with the school as it developed its partnerships in China.
(picture from http://en.ceaie.edu.cn)