For those of you who don't know, I am Canadian, born and raised in both Montreal and Toronto. I visited the Netherlands twice before moving here last August. When I first got here, the Dutch would mention many stereotypes regarding Canadians. That in mind, we are associated with so many stereotypes of which most are untrue. However, the most interesting thing said about Canada is the one involving our monetary bills; they are 100% water proof and if you scratch the shiny silver part like a lotto ticket, it will smell like maple syrup.
Small vs. Tall
Getting back to the point, arriving in the Netherlands was quite interesting. Both the Dutch and Canadians share similar values, which eased my way in adapting to the Dutch culture. The Dutch are very accepting and easy-going, which is what I am used to in Canada. One thing that truly shocked me was how insanely tall EVERYONE is here. They are human skyscrapers. I feel like Ant-Man here. I constantly mention this to my Dutch friends and they reply: "Hahaha ja lekker man!" (Hahaha, yeah nice man) You will hear that phrase a lot when in the Netherlands.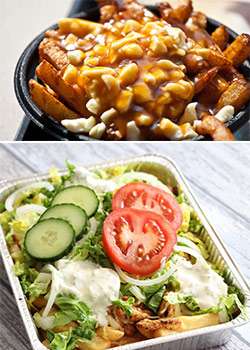 An alternative for Poutine.
Ever since I moved here, there are two things in terms of foods/beverages that will always be missed every time I am not in my country: Tim Hortons & Poutine. Tim Hortons is kind of like a Dunkin Donuts, but way better, no question about it. A Poutine on the other hand is a combination of French fries, melted cheese and gravy. If your mouth is not already watering, look at the first picture to your right. Yeah, you see that? All day long… breakfast? Lunch? Dinner? Anytime, anywhere. That said, the Dutch have a dish called a "Kapsalon". Literal translation? A hair salon… But don't worry, this dish does not contain hair. In fact, it consists of French fries, kebab, melted cheese on top along with the sauce of your choice, and of course, little strips of salad with four cucumbers on top, to make you feel less bad when you order the kapsalon.
Hockey?
Doesn't exist here. Okay, it does, but the level of exposure is extremely low compared to none other than the sport of football, a.k.a. soccer. Football is huge here. I personally do not watch football, and many of those around me know that… but they don't understand it. One of my good friends would talk to me about how crazy it was for Mino Raiola to be suspended from his duties by FIFA as a manager of some sort. I'd answer: "Don't know who that is man, don't watch football…" Then, the week later, he would ask me something like: "BRO! Did you know Matthijs de Ligt wants to go to Barcelona along with De Jong?! This is CRAZY man!" *Sigh*… It is in the Dutch's blood to know about football. I am the Canadian here, alone, watching Team Canada compete in the World Championship held in Slovakia while sharing the frustration about the fact that the Boston Bruins are aiming to get another Stanley Cup under their belt. No one knows about that here.
All jokes aside, living here is a tremendous experience and the people are super welcoming. It is very diverse, just like Canada… and the country is just simply beautiful with many cool cities to visit and explore. I would recommend the Netherlands to any Canadian that can manage life without Tim Hortons. It stings at first, but you become used to just buying the expensive coffees they offer at AH To Go & Kiosk.
PS: Our monetary bills are indeed waterproof, but they definitely do not smell like maple syrup … Sorry, sorry, sorry!
WUP 5/6/2019
by Matthew Skelhorne
©WUAS Press