WUAS has joined forces with the Canadian University of Fredericton to offer an Executive MBA Summer Certificate Programme at its location in Amsterdam.
It will run from 26 July – 4 August, 2016.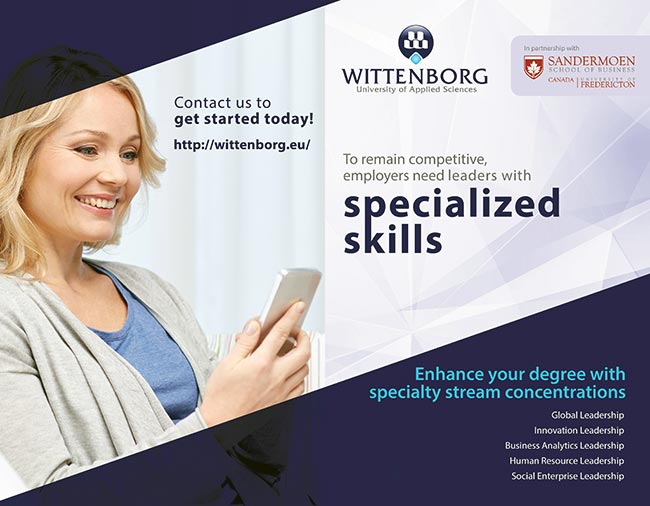 The unique EMBA programme is aimed at Dutch and international managers looking to refine their expertise in global business practices, management and leadership, as well as those who are currently pursuing an EMBA programme or considering it.
The fee for attending this 10-day course is €795. The programme content will be facilitated by academic experts from both Wittenborg and the University of Fredericton. Those wishing to join can still apply until 17 July by emailing: SummerEMBA@wittenborg.eu
Attendees will get a unique opportunity to rub shoulders and exchange ideas with Canadian EMBA students, who will also attend the programme as part of their international field trip along with faculty members from the University of Fredericton. The students specialise in Global Leadership, Human Resources Leadership, Innovation Leadership and Social Enterprise Leadership.
The broad theme of the programme will be: Implementing internationalisation of sustainability and social responsibility in multinational organisations and management consulting.
The course will also include several trips, including a visit to Rotterdam Port Operations and a guided educational tour of Amsterdam's key international commerce components like tulips, diamonds and tourism.
Attendees need to have a good command of English and a bachelor's degree is also recommended, plus some managerial experience.
Academic topics that will be covered include:
• The Global Marketing Scenario on Best Practices
• Intermodal Systems and Supply Chain Management in the EU
• Differential HRM Customs and Issues
• The Economics and Sociology of Globally Sustaining Sustainability
• International Team Building Leadership
• Management Skills Characteristics
• International Banking and Finance
For more information email: SummerEMBA@wittenborg.eu
WUP 6/7/2016
by Anesca Smith
©WUAS Press