Bestselling Book on Entrepreneurship Includes Review from Wittenborg Senior Lecturer
"Expertise" Guidebook for Entrepreneurship Students
A book review from WUAS senior lecturer Bert Meeuwsen is included in the 4th edition of the bestselling textbook by Paul Burns, Corporate Entrepreneurship and Innovation. Burns is considered an expert on the subject of entrepreneurship.
Meeuwsen is one of only a handful of academics from around the world to be approached by the British publishing house Macmillan to review the 2020 edition of the book, and the only Dutch national.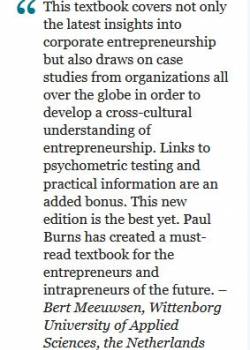 "They met me during a visit to Wittenborg to address a diversity of business studies textbooks offered by them," Meeuwsen explains his involvement. "They realised that I am in charge of a number of modules related to entrepreneurship and corporate strategy, as well as leading and managing organisations. I also have extensive applied international business experience, with both an MBA and MEd, and studying for a PGCert Higher Education culminating in FHEA. Wittenborg was using the previous Corporate Entrepreneurship editions (2013 and 2016) by Burns, and I was the module lecturer at that time."
The book describes how it is no longer "sufficient" for businesses to grow simply by cutting costs and taking over competitors. "To achieve true success, organisations must avoid an ageing product or service portfolio to bring new, innovative ideas to market. Corporate entrepreneurship is inherently risky and, therefore, requires a fresh approach to strategy. The approach Paul Burns offers will successfully overcome barriers to launching new ideas, internal challenges of managing creativity and show how to foster an entrepreneurial culture."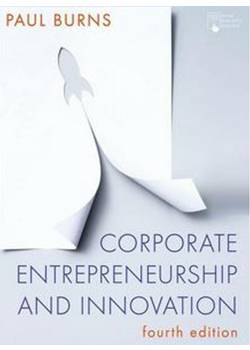 "The business administration approach is sound, whereas connections to learning in organisations, as well as how people, i.e. how organisations act and react, is explained too. The case studies, as well as psychometric tests, offer practical and both reflective and active learning approaches. The 2020 edition is an update on the latest theoretical developments, e.g. Porter's 6d Force, as an addition to the famous Porter's Five Forces Framework. Didactically it offers a worldwide series of case studies. These studies are easy to recognise, as national flags are used to clearly distinguish them.
"All in all, the 2020 edition additionally offers, also by means of the work by Professor Erin Myer, INSEAD, a practical tool on cross-cultural entrepreneurship and behaviour. As a result, it helps educators in assisting the self-development of students - in other words, the preparation towards students' professional execution in due course."
WUP 26/3/2020
by James Wittenborg
©WUAS Press