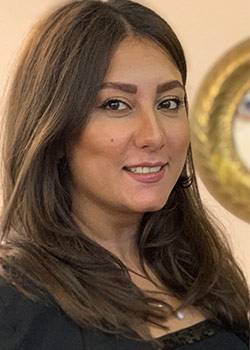 After Studying Online for Months in Home Country, Master's Student Finally Makes It to Netherlands
A master's student at WUAS, hailed in her home country of Iran for her portraits of Down syndrome children, hopes to continue with her art of those on the fringes of society now that she is studying in the Netherlands.
Farnoosh Dabirimovahed came to the Netherlands in October of 2020 to continue her studies at Wittenborg's campus in Apeldoorn after already starting online in May of that year. She is doing an MBA in Hospitality Management. Before moving abroad, Dabirimovahed was director of the language department at a large petrochemical concern in Iran and an English teacher. She has a bachelor's degree in English translation – a handy qualification that she uses to teach English online while COVID-19 is keeping many people around the world indoors at the moment.
Dabirimovahed, who has five exhibitions under her belt, started drawing portraits of Down syndrome children a few years ago. She was taken by surprise when she realised how touched people were and all her work quickly sold out.
"I actually under-priced them in the beginning because I was not sure how they would be received. Many of my clients were doctors and medical staff. When I was still a little girl, I would walk home from school and we would pass an institute for Down syndrome children, so I went to that same institute to take photos of my subjects and then draw them."
Capturing the facial features of Down syndrome and representing them in a respectful manner, bringing joy to those who see her art is something she loves. In Iran, she donated all the profit she made from her drawings back to fund the Down syndrome community, especially those who come from disadvantaged backgrounds. "When I was working as a director, my art had to make way for that, but now I hope to continue it here in the Netherlands."
Why did she leave her high-profile job in Iran to be a student in the Netherlands? "I always wanted to continue with my studies. The inspiration came from the language students I taught back in Iran – many of them wanted to work in the tourism and hospitality industry and that was how the seed was planted. I wanted to learn more about management."
One of the reasons she chose Wittenborg was because of its flexible entry system. "There are several opportunities per year to start with your studies because of the block system here at Wittenborg. Initially, I wanted to come in February 2020, but it was easy to switch to May."
Because of corona-regulations, she has not been able to see as much of what the country has to offer as she would have liked, but has already made a couple of friends and even dined with the Dutch family of a new friend.
Dabirimovahed is not sure what she wants to do after graduating. "My focus is now on my studies and I try not to look too much into the future. Maybe I'll go back to Iran, or maybe I'll stay in the Netherlands."
WUP 20/1/2021
by Anesca Smith