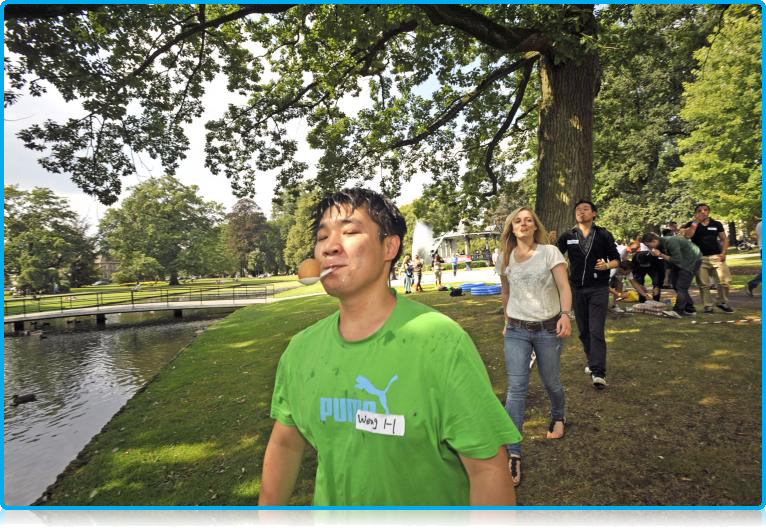 Apeldoorn has thrown open its doors to welcome new University students to the town during a day of welcome festivities. Students from WUAS, Saxion University and the Theological University were welcomed to the town by Alderman Johan Kruithof, and the day was followed by a series of activities ending in an evening of drinks and dance.
According to a spokesman of the City of Apeldoorn, "there were more than 100 students at the welcome speech, held at the city hall by the alderman, and clearly many of them were speaking English!"
Wittenborg first started a full Introduction Day to Apeldoorn in 2010, and through the newly launched website "whatsapeldoorn", the local education platform that represents local higher and further education institutes, such as Aventus and Saxion, many more activities are planned in the future.
Currently Apeldoorn has around 1000 University students and 8000 further education students.
WUAS hopes that the website could develop into something that represents the serious study possibilities in the city of Apeldoorn, and that the increasing numbers of institutes and students
WUP 23/08/12
©WUAS Press
Sources: http://www.destentor.nl/regio/apeldoorn/11611433/Nieuwe-website-voor-studenten-in-Apeldoorn.ece
http://www.destentor.nl/regio/apeldoorn/11546454/Welkom-voor-nieuwe-studenten-Apeldoorn.ece
In the picture taken and published by the Stentor Newspaper, Apeldoorn edition, a group of international students is seen at the welcome day in Apeldoorn.