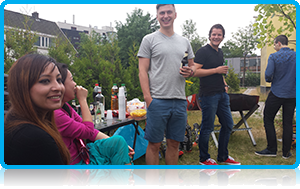 Wittenborg Students lucky enough to live in one of the University "Spacebox" accommodation units were closest to enjoy this weekend's festivities at the annual Apeldoorn Dragon Boat Races, that take place on the canal next to the Spacebox studios (pictured).
The Dragon Boat races are made up of teams of local organisations and companies, and the students that attended this year said that they hoped WUAS would be able to team a boat next year.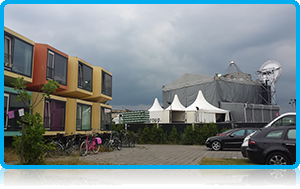 Each day after the races, live music takes place on the area right next to the studio Spaceboxes, providing students the perfect backdrop to the barbecue they organize each year at this time, and from this year, students living at the spaceboxes were provided with free entry tickets to the concerts (to compensate for the "noise" -:)
With more than 100 thousand visitors expected over the course of the weekend, the Dragon Boat Festival is certainly one of Apeldoorn's biggest yearly events.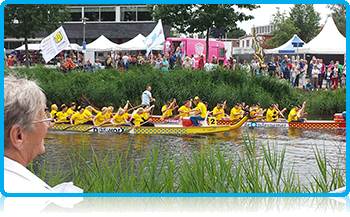 WUP 29/6/2014
©WUAS Press
by Nicky van Riggelen