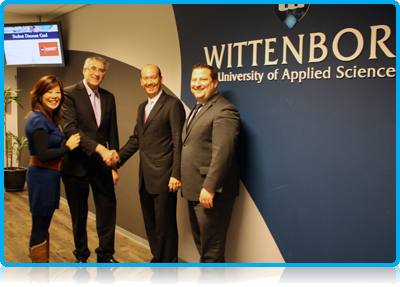 Angell Business School Director Robert F. Wetterauer and Dr. Florian M. Hummel, Director of Degree Programmes visited WUAS today to discuss the continuing development of cooperation between the two institutes. Angell Business School, situated in Freiburg, Germany also offers the MSc degree programmes in Hospitality, Events and Tourism management of the University of Brighton.</p>
Although this is the first visit by Angell Business School to Apeldoorn, the two management teams have met on a number of occasions in the past two years, as part of the development of the European Bachelor of Arts in International Hospitality (the EuroBA).
During the afternoon, the visitors gave a presentation to Wittenborg students of their institute and the possibilities of completing their Master programme in Freiburg. Initial student feedback was that they "had been presented with a very interesting option for their Master programme"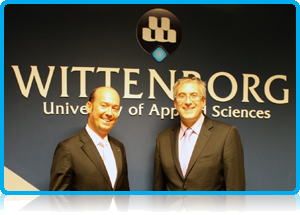 As part of the discussions, at which Executive Director Maggie Feng was also present, it was proposed that Wittenborg hold one of its project weeks at the Angell campus in 2013. During its academic year, all 1st and 2nd year Bachelor students complete 6 project weeks that can be diverse in focus, and often field trips are arranged to partner institutes to promote international experience and exchange. Angell suggested that students from Freiburg would also enjoy an exchange week in Apeldoorn.
WUAS Chairman Peter Birdsall commented "It might seem strange promoting the same University of Brighton Master degrees that we offer from another institute's campus, but actually students are looking for different options, and it works vice-versa. We are looking forward to working with Angell on the EuroBA, but also on other bi-lateral projects and programmes with them. I think the dynamics of the partnership are an example of how Private Higher Education can create synergy to provide students with a quality experience"
Angell Business School is situated in the city of Freiburg in the beautiful black forest area of Southern Germany.
"The ANGELL Business School provides internationally focused undergraduate and postgraduate courses in the field of tourism, event, and services management in cooperation with renowned international partner universities. Our courses combine theory and practice, benefiting from the lecturers passing on their industrial expertise and experience to the students."
Source http://www.absf.de
WUP 13/12/12
© WUAS Press