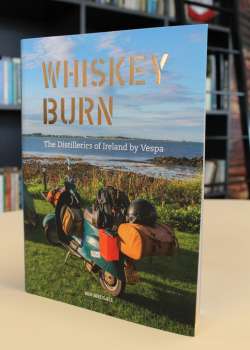 Whiskey Burn – A Huge Success
Following the November 2018 launch, Wittenborg's newly published Whiskey Burn: The Distilleries of Ireland by Vespa has surpassed expectations by the attention received from our customers and the general public.
Like its earlier Scottish sequel : Whisky Burn – Distilleries of Scotland by Vespa, the Highlands and Islands, Whiskey Burn (note the 'e' in whiskey for the Irish spelling) has been praised for its design, humorous content and shelf-friendliness.
About the book
In Whiskey Burn, Birdsall takes us on a 3-week camping tour around the island of Ireland to visit the established, newly established and yet-to-be-established whiskey distilleries.
Travelling on his trusty, 1979, classic Vespa 50, touring distilleries, painting and sketching the landscape - and the distilleries - sampling the produce back at the campsites, this already established travel writer opens the doors to a new generation of Irish whiskey producers.
It is a travelogue, a pictorial record, a guide to the new faces and new landscapes of distilling in Ireland, and an amusing, engaging read that no whisk(e)y enthusiast's bookshelf should be without.
What people are saying
Whiskey Burn has been hailed as Ben Birdsall's best book so far.
Its launch at the WhiskeyLive Dublin event last November generated such enormous interest that it was sold out in less than two days. According to the author Ben Birdsall "I was pleasantly surprised by the interest generated, and by the last afternoon of the event we only had one sample copy left at the stand – so the only thing left to sell was the 'idea' of the book".
The following weeks leading up to the Christmas holidays was quite busy with orders as customers saw it as an ideal stocking filler for partners and friends.
Comments received included this from the 'father' of the modern Irish whiskey industry and owner of his own distillery John Teeling: "Delightful and enjoyable read. If you want to know about the renaissance in Irish whiskey this is the book" .
Séamus Ó Drisceoil of Cape Clear Distillery, Co. Cork: "This is a book well worth having".
Pearse Lyons Distillery, Dublin: "This is a fantastic read and we're the lucky ones who have it in stock here for sale."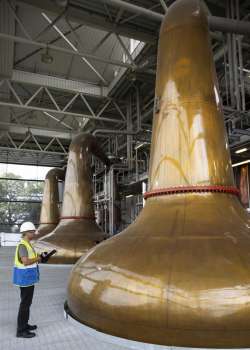 How to get a copy
Whiskey Burn is available through our website at www.whiskyburn.com. Also on popular websites such as Amazon, bookdespository, or book sellers such as Argosy Books in Ireland, WhiskyBoeken in the Netherlands and Waterstones the in the UK. RRP: EUR 29.99.
The Next Step
Next step for Whiskey Burn is to create distribution networks in the U.S and Canada, and as far afield as Australia, working with WUAS students to construct and implement an effective sales & marketing strategy for the book. Do you have any marketing suggestions? Contact us at info@whiskyburn.eu.
WUP 11/01/2019
by Rousanna Baird
©WUAS Press