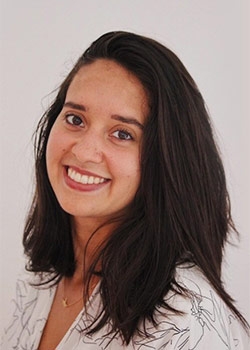 Mariana Góes from Brazil Working for Major International Companies
Over the course of her career, Wittenborg graduate Mariana Góes has had the opportunity to work in various exciting roles within the fields of media and marketing for major international companies.
Originally from Salvador, Brazil, Mariana dreamed of living abroad since she was a child. In 2015, after completing a bachelor's degree in Public Relations at the State University of Bahia and working for a year and a half as a social media manager for multiple clients, she decided that it was time to embark on a new adventure. Having applied for various international study programmes, Mariana was accepted onto a one-year international marketing and business course at Wittenborg. She was also offered Nuffic Neso's Orange Tulip Scholarship, which covered 90% of her tuition fees.
"I moved to the Netherlands to follow my programme and it was all very new and exciting to me. Coming from a big metropolis like Salvador, I found Apeldoorn a cute, pleasant and small city. That was a significant change in my life. It was the first time I was living on my own, and I had to learn how to be independent and face obstacles and challenges. On top of that, I was meeting people from all over the world," the graduate highlights.
At Wittenborg, she had the opportunity to develop important skills, including how to create an impactful CV and the best ways to network, invest in personal branding and use LinkedIn. "The school had a cosy atmosphere and I liked many of the lecturers. Moreover, Wittenborg is really focused on helping the students with their career development, and that was useful to me. Wittenborg was my entry door to the Netherlands and to my professional life here."
Hands-on Experience
After completing her programme, Mariana obtained an orientation-year ('zoekjaar') visa and soon started a six-week traineeship at international media agency Dentsu. The activities were aimed at qualifying young international professionals to work for the company as programmatic traders, a job that involves managing advertising campaigns across a variety of digital platforms.
She says that the traineeship was really intense and dynamic, and included many hands-on activities. "At the time, programmatic trading was a new speciality, and the traineeship was really cool. Among other things, I learned how to work with many different platforms, including Google, Facebook and Amazon. We also learned how to use data management platforms, such as Adobe, Google Analytics and Datorama, to gather and analyse data about the campaigns we were running, and we learned more about the brands we collaborated with, their business challenges and market positioning."
At the end of the traineeship, Mariana was hired as a programmatic trader by Dentsu, with the responsibility of running marketing campaigns for Microsoft, one of the company's major clients. In this position, she was tasked with managing campaigns in 28 European countries, for products such as Xbox, Azure and Surface.
Two years later, she became a digital account manager, a position which required her to interact directly with the client, which was still Microsoft. "As a digital account manager, I would talk to the client, present the results of campaigns, understand the company's goals and translate them into media," Mariana explains.
At Dentsu, she would subsequently have other positions of increasing responsibility, becoming the account management's team leader – which, among other tasks, required her to coach and train her teammates – as well as a client lead. In this latter role, one of her functions was to analyse if clients were profitable or not, providing cost-benefit analyses and developing customer relationships.
New Challenges
Having worked for almost five years at Dentsu, Mariana felt that she needed a change in her career. Instead of continuing to work for a media agency, she realised that she would like to transition into media management within a company from a different industry.
For this reason, she joined British household appliances company Dyson as a media and branded content manager in 2021, working in the sectors of air purifiers and hair care. Currently, she designs media strategies going beyond digital platforms and also encompassing TV, out-of-home marketing and radio, which has provided her with an all-round experience.
"We have a media agency at Dyson, IPG Mediabrands, and they are responsible for activating our marketing campaigns. Together, we translate the brand's business goals into media, by working with publishers and tech partners, such as Google, Facebook, TikTok and Snapchat."
When it comes to branded content management, she also works in partnership with highly popular fashion and beauty magazines such as Vogue, Linda and Elle. "My focus is on working with local beauty & fashion partners to drive Dyson's Hair Care narrative. We have partnerships to create content together and I Iove this part of my job because it's super dynamic, exciting and I get to meet lots of nice people."
In addition to creating the company's media strategies, she is also responsible for negotiating annual deals regarding branded content and oversees other tasks, such as the development of organic-reach media initiatives.
Advice to Future Graduates
Mariana encourages current students to learn Dutch, because this will be really beneficial to their career development in the Netherlands. "I started having Dutch lessons when I had just arrived in the Netherlands, and I did them for many years. By learning the language, you will learn more about Dutch culture and it helps you integrate. It makes your life a lot easier and also helps you professionally."
Furthermore, she stresses the importance of doing internships and traineeships, since work experience is highly valued in the Netherlands: "Personal branding is also essential. It's always a good idea to take extra courses, become as qualified as you can and include your certifications on your LinkedIn profile. On the LinkedIn Learning platform, there are many options of courses on social media and other areas; some of them are just 30 or 40 minutes long and help you expand your knowledge."
She adds that professionals living in the Netherlands must be prepared to work with people of different cultures, given the country's highly international and diverse character. "Although this is really cool, it can also be challenging at times, particularly if you are working for a large corporation. So, you need to be open-minded and learn how to deal with cultures that are different from yours, because this is an essential requirement if you want to live and work abroad," Mariana concludes.
WUP 12/9/2023
by Ulisses Sawczuk
©WUAS Press