Africa Event 2014 a great success!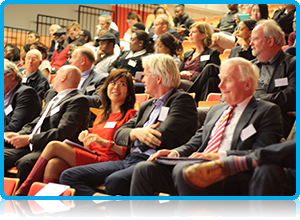 WUP 7/11/2014 – Africa Event 2014 a great success! - From excellent speakers, an engaging audience and an African dance group that had everyone on their feet - all-in-all, WUAS's African Business-to-Business Event was a raging success last night. The event was attended by a number of business people from Dutch and African companies, charity organizations doing empowerment work in Africa and droves of students, eager to establish contacts in the business world.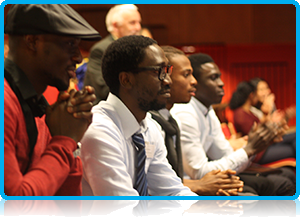 Speakers included Peter Niekus (manager of Rabobank's Africa Desk), Thijs Rutgers (business service manager of the Netherlands African Business Council), Gonneke Campen from Young Africa, prof Adri Vermeer from the Tjommie Foundation and Wittenborg final-phase student Ishebo Twijukye, who delivered an engaging talk on his internship at an international company, Bredenoord.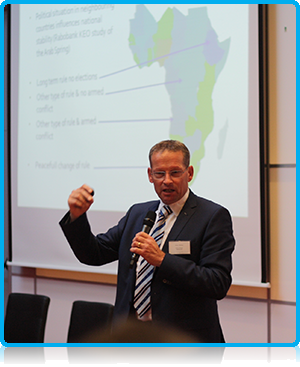 The purpose of the event was to highlight business opportunities in Africa, current economic trends and lucrative regions and sectors on the continent. It also sought to provide a networking platform for both established and prospective Dutch companies in Africa, the non-profit sector, training institutes and international students.
Wittenborg director, Peter Birdsall, kicked off proceedings with an introduction to the event. He was followed by Peter Niekus from Rabobank. Niekus said Africa is one of the richest continents, citing South Africa which is the world's largest platinum producer (75%), Nigeria who is ranked 11th when it comes to oil production and East Africa with its vast gas reserves.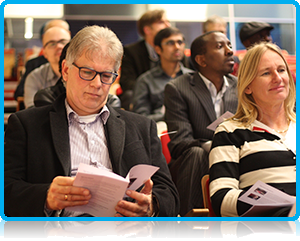 According to Niekus the three top sectors for business opportunities are in Logistics, Food and Agriculture as well as Energy. He also said when Dutch-ambassadors was asked to list the top African countries to do business in the list included Kenya, South Africa, Ethiopia, Ghana and Tanzania. He further emphasized that although challenges remain, there are far less conflict than 20 years ago.
Gonneke Campen from Young Africa says the organization has a presence in three African countries where they have established five skills training centers and have already trained 25 000 youngsters in professional skills. "I think we will need Africa in the future, because our population is decreasing there will be skills shortages in sectors like health care."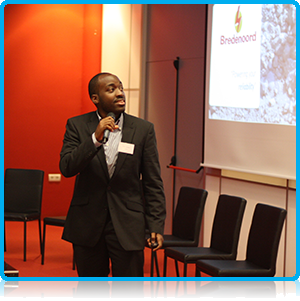 Ishebo Twijukye said Africa is the fastest growing continent in the world. "Now is the time for people to wake up and invest their resources in Africa. If you don't do it now, it will be too late." He also urged international companies to make use of international students and graduates for research purposes and as potential employees. "They have knowledge of the areas (you wish to invest in), it can ease barriers like language and they probably already have an established network of contacts." Twijukye did research for Bredenoord around the possibilities of entering the Tanzanian market.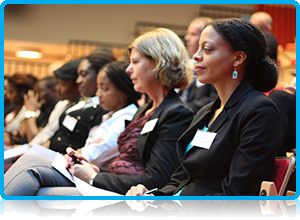 Thijis Rutgers said the Netherlands African Business Council (NABC) has an extensive and diverse network of about 350 Dutch companies who are currently active in Africa and another 50 African companies it also has links with. He said he disagreed with Niekus' list of top African countries to do business in the sense that Nigeria also belongs on the list. "There are plenty of opportunities – the risks are high, but the returns are also high."
Speakers also had to field questions from the audience. Tonia Dabwe, who is the founder of So Venture, wanted to know from Campen how Young Africa reduces the risk of corruption in their activities. Campen said the organization has a zero-tolerance policy when it comes to corruption and build their centers from scratch, collaborate with local governments and screen those involved in the building and maintaining of the centers thoroughly. "Not all people working for the government are bad people."
The evening was rounded off with an energetic performance by an African drum-and-dance group who after their performance managed to convince several members of the audience to showcase their dance skills!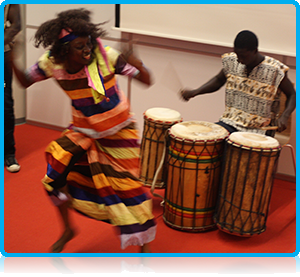 WUP 7/11/2014
©WUAS Press
by Anesca Smith