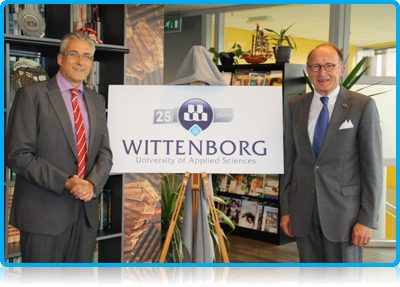 As part of its 25 Year Anniversary celebrations, WUAS is pleased to open its doors to guests from companies and organisations in the Stedendriehoek Region (Apeldoorn, Deventer, Zutphen) to experience two demonstration lectures given by WUAS Lecturers, Dr Saskia Harkema, giving her seminar in Dutch and associate Professor James Bowen, PHd, PMP. The theme of the seminars is: "Making a change in the economic crisis through diversity and innovation!"(by dr. Saskia Harkema, in Dutch) and "The new economy through managing diversity" (by mr. James Bowen, in English)
At this event, to be held between 15:30 and 20:00 in the lecture hall/auditorium at the Aventus building, guests will be invited to attend two lectures, one in English and one in Dutch. Between the lectures, finger food and networking with drinks. The costs for this event are €35 per person including network drinks and fingerfood dinner, and the proceeds will go towards the Wittenborg Scholarship Fund, created by the Debbie Foundation, that supports students from developing countries, by providing free or reduced fee education at WUAS.
Gala: Wittenborg will conclude its celebration week with a Gala on the 9th November, to be held in Apeldoorn, with guests from Education, Business and Government.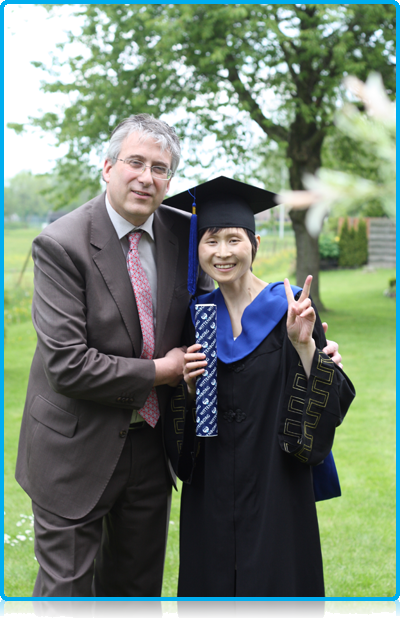 The Debbie Foundation: In the summer, Wittenborg announced the launch of the Debbie Foundation, a scholarship fund to help excellent students from poorer backgrounds in developing countries to study at Wittenborg, through fee waivers and housing and substance allowances. Debbie was a Wittenborg student, from China, studying at the University since February 2006, and also worked at Wittenborg's student front desk in 2007. Many students and staff were part of Debbie's life and her brave fight with cancer, which first developed 6 months after her arrival in the Netherlands. In her final weeks she was cared for by a team of volunteers that included teaching staff and management from Wittenborg. On 19th May 2012, Debbie was awarded an honhorary degree by directors Peter Birdsall and Maggie Feng, completing something she had always wished for, and during that afternoon she sincerely expressed her wish that Peter and Maggie help other students from around the world to improve their lives by setting up a fund to help finance students from poorer backgrounds to study at Wittenborg. Debbie passed away 2 days later, with Maggie and tutor Henry close by.
Wittenborg has already announced scholarship fee waivers of more than 50 thousand euro, through the Orange Tulip Scholarship Fund (OTS), and will officially launch the fund at its 25th anniversary gala on November 9th, calling upon companies, individuals and organisations to help and donate to the fund. Donations can be made by sending an email to donation@wittenborg.eu
WUP 13/10/12
© WUAS Press