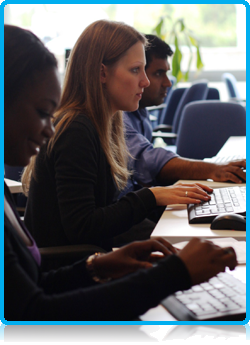 The first block of the 2012-2013 year at WUAS is reaching an end with the first of the year's exam weeks for Bachelor students. Block 2 will start on 22 October, and the school will say goodbye to a number of graduating students and welcome new students from Austria, Bulgaria, Russia, China and Vietnam to its classes. With 6 starts and finishes a year, the Bachelor programme is a lively evolution of diversity. The next group of new students will start in Block 3, which begins on 3 December 2012.
Wittenborg's flexible system of 6 starts a year means that students have a chance to complete modules within a block, moving on to the next series of modules in the next block. For instance, if a Bachelor student enters the programme in Block 2 (22 October, this year), then the phase / year will be completed after block 1 of the following year, and year 2 will also start in Block 2, and students move through the programmes in this way, also graduating in the block, following the same pattern – 6 graduation moments per year!
Master Start
During Block 1, the MSc International Event Management programme got underway, with 3 lecturers from the University of Brighton joining their Wittenborg Colleagues during the first three weeks, in Apeldoorn. Also, MSc student Henk Penseel has started to publish his blogs in English for Wittenborg. Henk has been a regular blogger at his employer, the Utrecht University of Applied Sciences. Watch out for his blogs on the Wittenborg Website.
After the induction week, the Master modules Events Policy and Practice, Globalisation, Society and Culture, Research Methods, and Event Project Management were all started.
WUP 10/10/12
© WUAS Press