WUP 9/4/2015 - A 10% Rise in Wittenborg Students Participating in NSE Survey -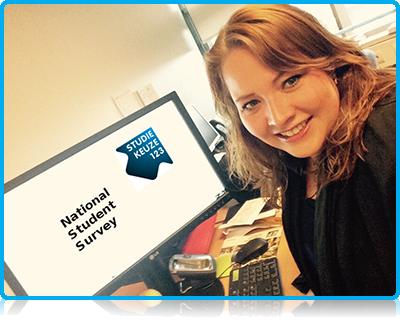 Students at WUAS are finding it increasingly important to make their voices heard!
Almost 40% took part in the National Student Survey (NSE) this year, which is 9.8% higher than in 2014. Participating in the 2015 NSE closed on 8 March and the results will be announced on 21 May via www.studiekeuze123.nl.
A whopping 712 280 students from 72 universities and other institutions of higher education in the Netherlands had their say about their studies and institutions by participating in the survey. This year the national response rate was 39.1%, compared to 33.7% last year.
At Wittenborg the response rate was 29% last year. This year it shot up to 38.8% - proving how important it is for students at Wittenborg to give their opinion on their studies. The fact that it is just 0.3% lower than the national response rate, while at the same time growing faster, is impressive given Wittenborg's small size compared to other big universities in the country.
Last year Wittenborg attained an overall score of 7.5, thereby not only improving on its score from the previous year, but also beating the national average. One of the categories where the university scored above average were study content, including an improved mark on the question of whether content matched the student's expectations and the quality of the study material.
Students were also happy with lecturers, including their field expertise, accessibility and feedback although there was a drop from last year. Other categories where Wittenborg scored above the national average were study facilities, the size of classes and groups, workload, the supply of information, timetables, the measuring of performance such as exams, study facilities as well as the research and general capacity within the university.
The NSE is a nationwide survey researching students' satisfaction with the higher education course they pursue in The Netherlands. Nearly all students in Dutch higher education are invited to participate every year, thereby providing valuable information to incoming students on making the right study choices.
By participating, students provide valuable information to Wittenborg which is used to improve services at the university. It also gives insight on how Wittenborg compares with other institutes because students give their opinion on all sorts of matters from the quality of the education they receive to the availability and affordability of accommodation in the city where they are located.
WUP 9/4/2015
by Anesca Smith