"Wittenborg University" - now official name – Dutch name "Hogeschool" is officially dropped from today.

Today directors Peter Birdsall and Maggie Feng officially signed the Act that removes the Dutch name "Hogeschool" from Wittenborg, which is now called simply WUAS.
Wittenborg was established in Deventer in 1987 under the name Wittenborg College, and became a recognized University of Applied Sciences in 1996, under the Dutch name Hogeschool Wittenborg.
From 2007. Wittenborg has only offered English spoken international degree programmes, to students from the Netherlands and from around the world.
The Netherlands has a binary higher education system, consisting of research-oriented education, offered by Research Universities and higher professional education, offered by Universities of Applied Sciences.

Wittenborg offers both professional and more research orientated degrees, co-validated with its UK partner, the University of Brighton, and according to Director Peter Birdsall, the name change will better portray Wittenborg as an institute that offers English spoken, international higher education, of a professional nature, however coupled with research and applied science.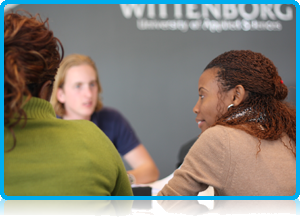 Since 2011 Wittenborg has been offering two Master of Science programmes, in Event Management and Tourism and from September 2013 will start to offer the Master in International Hospitality Management (MSc) and parts of the European BA International Hospitality Management – a 3 year, UK Bachelor degree, offered by a consortium of institutes from 6 different European countries.
Fellow Director, Maggie Feng "The name Hogeschool is confusing for international students, as they can't see the direct link to the English University of Applied Sciences. Also, at this time in the Dutch higher education system, the crossover within the binary system is becoming more commonplace, with research and practical application being carried out at both types of University. No-longer using the name Hogeschool makes us more transparent to the outside world."
Also today, the board of directors was also officially instigated within a trust: the "WUAS Executive", that holds all the shares of the University and executes its management. At the same time, the WUAS Advisory Board was formalized in a trust, with the task of overseeing the management of the institute.
WUP 13/02/2013
© WUAS Press