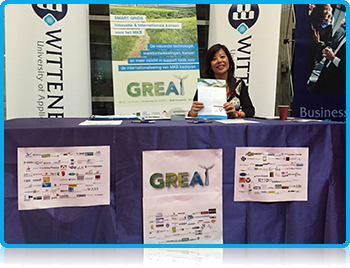 After a series of successful campaigns to promote sustainable energy and encourage SME's to get involved in the European GREAT-project, WUAS which is a partner in the project, is now taking the message to potential students encouraging them to consider careers in technical services, engineering and science.
Wittenborg director, Maggie Feng who is leading the research center team, said sustainable development, energy and the technical field are creating more and more jobs and the GREAT-project will open a world of job opportunities in various sectors like energy, engineering, sustainable development, environmental science and different technical services.
This was also the message Feng had for students who attended the NXTLVL Education Fair in Apeldoorn recently. WUAS had a special stand promoting the GREAT-project. NXTLVL Open Evenings are an opportunity for Dutch institutes of higher education to showcase what they offer potential students. Hundreds of Dutch students, eager for guidance to help them choose which further studies they should pursue, attended the fair.
It is expected that the world market for sustainable energy technology will almost triple from 2008 ( € 340 billion) to 2020 (between € 800 - € 1 200). (Source: CleanTech Region 2020)
GREAT is a cross-border EU-funded project which aims to encourage communities as well as small to medium size enterprises (SME's) to develop technological solutions for Smart Grid, Renewable Energy and Distributive Generation. It also promotes research and develop policy issues for regulatory authorities and provide structured co-operation opportunities between SMEs, research institutes and technology developers.
In this project, WUAS is developing economic tools to inform and encourage SME's to get further engaged in the use of green energy, stimulating investment in human capital, essential for the regional and national economy.
WUP 30/11/2014
WUAS Press
by Anesca Smith