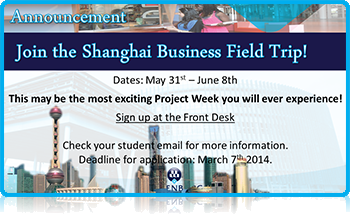 Excitement is building ahead of Wittenborg University's not-to-miss Shanghai business field trip which will take place from the 31st of May until the 8th of June.
The annual trip is a joint effort between Wittenborg and its partner, the Shanghai Business School. Students at Wittenborg will be able to experience an international project week in the bustling Asian metropolis.
Though several students have already registered to take part in the trip, there is still plenty of opportunity for those wishing to join them, and registration is also open to new students starting in February, and even a number of Master students starting in September 2014 have shown an interest. The deadline for registration is 7 March 2014. Students are also allowed to ask their friends from other Universities and Higher Education institutes to take part in the trip – Chinese Universities have a capacity to receive large numbers of students!
Situated on the estuary of Yangtze River, Shanghai is regarded as the most influential economic, financial, international trade, cultural, science and technology center in East China.
Apart from discovering Shanghai's typical, traditional Chinese culture, students will follow several seminars, make company visits and experience life in China's economic and business capital.
Highlights of the trip include a visit to the Benelux Chamber of Commerce, a trip to Tianzifang, a popular arts and crafts enclave known for small craft stores, coffee shops, trendy art studios and narrow alleys, as well as a visit to the Shanghai museum.
Students will also have the opportunity to attend the 'Study in Holland' Fair where they will meet Chinese students and help to promote higher education in the Netherlands. Of all the Neso-countries China has the highest number of international students in the Netherlands, currently standing at 6 380. China and the importance of Chinese students to the Netherlands has been highlighted by the recent decision to keep its Neso-office in China operating while several other Asian Neso's have been closed.
Students who completed the National Student Survey also stand a chance to win a ticket to Shanghai if they send a picture of the last screen of the survey to prize@wittenborg.eu. The winner will be drawn at a special event on 7 March 2013.
The Wittenborg University Trust (University Board) is a joint Chinese-Anglo management and Wittenborg's ties with Shanghai and Beijing have traditionally been strong. Since 2011 the university has been actively strengthening its relationship with academic institutions in Shanghai through its wide network.
WUP 29/1/2014