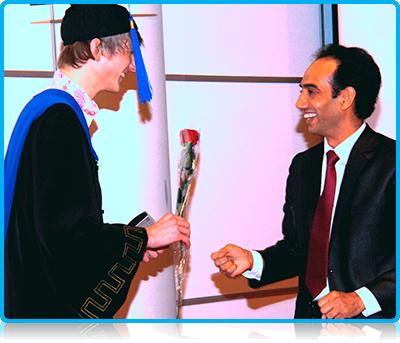 Dutch student Bas Heuver (23) graduated as Bachelor International Business Administration last month, after an intensive 3 year programme. During his studies, Bas continued to live with his parents in the town of Raalte, travelling to Apeldoorn for lecturers and tutoring, rather than moving to the town. Bas is planning to start an English pre-master programme at the Erasmus University in Rotterdam in September 2014, in order to complete a Master International Business Administration there. In his gap year he plans to gain as much work experience as possible, in a financial field, in order to strengthen and broaden his knowledge of economics, finance and statistics.
According to Bas, Wittenborg's strongest characteristic is 'international 'and 'diversity' - he bases this on his experience at Wittenborg, and what Bas has leant and seen at the University, in the past three years. "Wittenborg continues to grow and implement improvements to its curriculum and student support ". Still, he thinks there are enormous opportunities to increase a broader awareness of Wittenborg, its activities and its students, both in the Netherlands and around the world.
"Wittenborg's diversity ensured that I came into contact with other cultures, some that I had never even heard of. Working together with students from other cultures enables me to approach the world from a different perspective " Bas is hoping to keep contact with a number of his international friends in the coming years.
Bas' advice to new students: "Remain critical, not only about yourself, but also your teachers and fellow students; ask questions, read the study material and now and then do some extra reading and study!"
WUP 6/3/2013