Wittenborg MSc Graduates Receive Degrees from Brighton University
Wittenborg's latest Master of Science graduates received their formal degrees on Friday at the University of Brighton's 2018 Winter Graduation Ceremony in the UK. Wittenborg offers its MSc programmes in conjunction with Brighton.
s00045
Sun, 18/02/2018 - 12:04
New MSc Students get Hearty Welcome at Wittenborg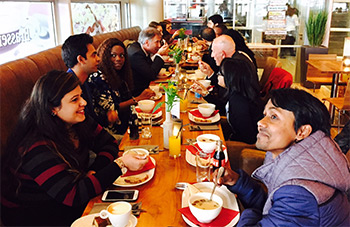 This week Wittenborg University of Applied Sciences welcome
s00045
Sun, 08/10/2017 - 12:10
We are pleased to announce that the Education & Examination Guides for the bachelor's IBA, EBA and HBA programmes have been updated and published online.
New Master of Science students from across the world arrived at Wittenborg's Apeldoorn campus this week for 3 packed days of Introduction Week activities before they formally start their programmes.
The Orange Tulip Scholarship Programme (OTS) gives talented students in several non-European countries the opportunity to study in the Netherlands.