New MSc Students get Hearty Welcome at Wittenborg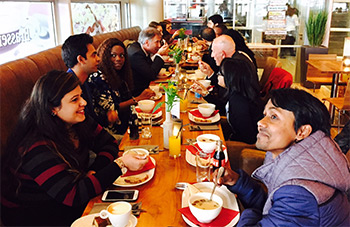 This week WUAS welcomed its latest group of MSc students from all over the world for three packed days of orientation. Their academic year will officially start on 9 October when classes commence.
The new students are from Iceland, Holland, the Ukraine, India, Bangladesh, Brazil, Germany, Nigeria, Malaysia and Turkey. Among them is Wittenborg alumnus Emelda Obewu, who graduated with a European Bachelor's in Hospitality Management - the so-called EuroBA - last year.
Wittenborg offers 4 Master of Science programmes, including its latest addition an MSc in Sport Business Management, in conjunction with the University of Brighton in the UK. All post-graduate degrees are offered on a full-time and part-time basis, except the MBA specialisations, which can only be followed full-time.
A total of 16 MSc students are expected to start classes next Monday. On Tuesday, students were welcomed by Wittenborg's chair of the executive board, Peter Birdsall, and Dr Pete Odgers, MSc Programme Coordinator of the University of Brighton. They received information about Wittenborg's policy procedures and handbooks before being treated to lunch.
On Wednesday, it was time for group work, learning presentation skills and using online resources. Friday's schedule will include a visit to the Dutch royal summer residence in Apeldoorn, Het Loo Palace.
WUP 8/10/2017
by Anesca Smith
©WUAS Press