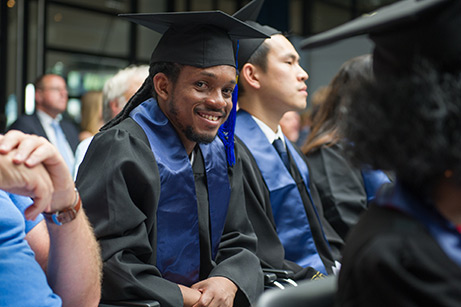 Many international students are poorly informed about job opportunities in their host country, presenting one of the biggest hurdles for them to stay on post-study.
This was one of the findings in an international study by the Expert Council of German Foundations on Integration and Migration's Research Unit. The study, entitled Train and Retrain, looked into the career support international students received in the Netherlands, Canada, Germany and Sweden.
The study also cited poor coordination between academic institutions, employers and local governments as contributing factors to international students' struggle to find employment after graduation.
It bemoaned the fact that while many institutions of higher education have experienced a rapid increase in the number of international students, student support services have not kept up with high enrollment numbers. In the Netherlands the average career service officer is responsible for 8 800 students. In Germany the ratio is 7300-1, in Sweden 5000-1 while in Canada it is significantly lower at 2900-1.
"For most international students looking for a job, the local support landscape is a patchwork of occasional career fairs, job application training and chance encounters with service staff or company representatives who may or may not be able to help them in their search for employment. Rarely do institutions of higher education, business, local politics and public services collaborate in order to facilitate the study-to-work transition of international students," the authors of the report states.
In the Netherlands and Germany only 28% of institutions regularly team up with local businesses to organize mentoring programmes, internships and other forms of labour market exposure for international students. In the Netherlands collaboration with municipalities takes place at 24% of universities and universities of applied science.
"In many municipalities these type of working groups, coalitions, networks and other formats only exist on paper. As a result, the quality of job entry support for international students are highly dependent on the personal connections of career counsellors and other institutional staff.
"International students who do not interact with employers early on often find themselves at a large disadvantage when searching for employment towards the end of their studies. Apart from a lack of professional networks, many inexperienced students do not know which job search strategies to employ or what kind of language skills are expected by employers."
The study also highlighted that despite employers' expressed interest in the internationalization of their workforce, many companies continue to hesitate when it comes to employing international students. "According to higher education staff in Germany, the Netherlands and Sweden, this is especially true for small businesses which are often unaware of the international talent pool that is available in their immediate surroundings."
The study recommends that stakeholders start with a comprehensive mapping of relevant local actors and their attitudes, efforts and objectives regarding the retention of international students. Thereafter shared, quantifiable goals should be developed which are achievable through pre-defined deliverables. Regular meeting formats should also be established and a contact person identified who can attend meetings and responds to internal and external enquiries.
WUP 11/8/2015
©WUAS Press
by Anesca Smith