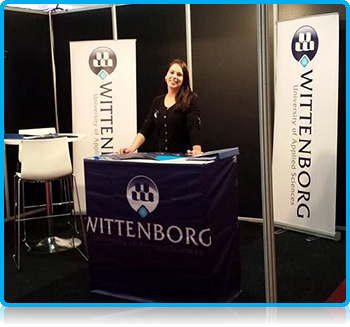 Wittenborg's Admission and Marketing Officers will be attending three big fairs this year in the South, North and Middle of the Netherlands to promote Wittenborg's programmes amongst Dutch students and raise brand awareness.
The representatives of WUAS are all set and ready for the Education Fair in Eindhoven. Come find us at stand 51 in Beursgebouw Eindhoven today and Saturday!
Wittenborg's Marketing Communication Officer explains: "the Dutch market is very different from the International Markets we usually deal with. Being a privately funded university of applied science, Wittenborg is not as well-known as some of the big players in the industry. It is key that Wittenborg's Marketing Department communicates about the (special) possibilities that our programmes offer in comparison to other institutes. What many Dutch students (and parents) don't know is that Wittenborg has accredited programmes, Dutch students have the right to receive study finance, Students can start and graduate six times a year and Wittenborg offers a high level of student support and tutoring. Attending these fairs provides us with a direct means of communication towards students and parents."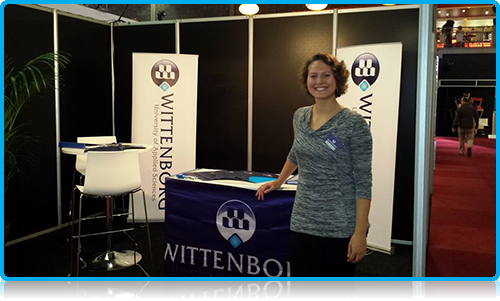 In the past couple of years Wittenborg has focused on promoting and marketing its programmes Internationally. Wittenborg's student numbers are growing each year and more and more international students join the Bachelor and Master courses in Apeldoorn. The growth of Dutch student numbers has fallen behind and Wittenborg now aims to increase these numbers in the coming years. In order to meet this target Wittenborg has recently hired Ms. Jeanine Rottier, who has extensive experience as a career advisor at AOB Compaz. Her knowledge and expertise about the Dutch Education Industry will be a great asset to Wittenborg's marketing department. Ms. Rottier will be mainly responsible for the communication towards Dutch High Schools, Colleges and other Educational Organisations.
The first out of three fairs will take place this Friday and Saturday in Beursgebouw Eindhoven. Students can attend the fair for free. At the fair students will find educational institutes from all levels and all disciplines both privately and governmentally funded.
WUP 25/09/2014