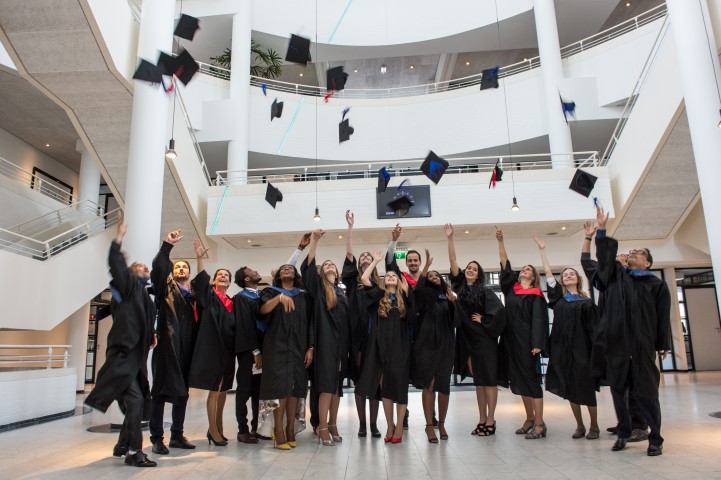 At Wittenborg we offer four 1-year Master in International Management MSc degree programmes, together with the University of Brighton (see below). These degrees are University of Brighton degrees (the University of Brighton is a university under the Further and Higher Education Act 1992, for England and Wales).
These University of Brighton MSc degrees can be followed either full-time (1 year) or part-time (2-6 years).
Tuition fees for the complete programme: UK/EU Students €9.600-.
International Students' fee is €12.600-.
These programmes are jointly delivered by a mixed team of academic research and teaching staff from both universities, and are taught in block fashion, with three classroom days a week.
The University of Brighton MSc programmes lead to a UK-accredited (University of Brighton, QAA) Master of Science Degree (90 ECs, 180 UK CATS).
Students who complete all taught modules in the University of Brighton MSc programmes are also awarded a Postgraduate Diploma (PGDip) by Wittenborg University of Applied Sciences, which, in combination with the University of Brighton MSC, entitles international students to apply for 'work after study search year' status.
Dutch students who are eligible for the 'teaching scholarships' (in Dutch  - 'lerarenbeurs') can also apply for this through their institution and DUO, for these University of Brighton MSc programmes.

50-50 teaching! Our University of Brighton MSc degrees are jointly taught at our Apeldoorn campus in the Netherlands. Teaching staff from the UK fly into the Netherlands to teach 50% of each module and Wittenborg teachers are appointed by the University of Brighton to teach 50% of each module. This creates a unique experience for teachers and students. All assessment is carried out through the University of Brighton's online systems and only the University of Brighton Examination Boards are responsible to allocate credits and confirm the MSc degree. The MSc degree and its corresponding title is awarded and issued in Brighton, by the University of Brighton and students are welcome to attend the Graduation Ceremonies in Brighton.
Course structure
Full-time students attend workshops on three days per week from October to May. The modules are delivered intensively over consecutive days in the so-called 'block format', which means that each module has 6 days of teaching split into two blocks of 3 days. Teaching methods include group work, case studies, presentations, and live projects. The course is delivered through a variety of approaches including lectures, presentations, tutorials and case studies, with an emphasis on interactive learning. Each module is taught by two lecturers, one from the University of Brighton and one from Wittenborg University.
The University of Brighton programmes that are fully taught at Wittenborg in Apeldoorn are: MSc International Hospitality Management, MSc International Tourism Management, MSc International Event Management and MSc Sports Business Management