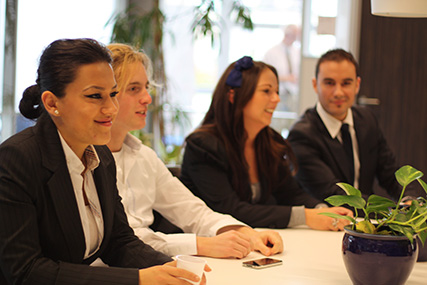 International students now represent almost 10% of the total student population in the Netherlands and are expected to contribute €1 billion annually to the Dutch economy from this year.
The latest statistics on internationalisation in the Dutch education sector - contained in the report Internationalisering in Beeld, published by EP-Nuffic - states that between 2010 and 2015 the number of foreign students in the Netherlands has risen with 15 682.
The report emphasizes that an important requirement for an open economy is an increasingly international labour market. It warns that despite the growth in student numbers, the Netherlands is still below the European average when it comes to incoming (9%) and outbound (2,9% )student mobility.
The steady increase from 46 971 to 62 653 owes in part to a doubling of students from Britain, Greece and Italy the past three years. There has also been an almost 50% increase of Indian students between the academic year 2012-13 and 2014-2015. EP-Nuffic reported recently that more than 1000 Indian students were expected to start in September this year whereas it was 550 in 2012-13.
The stream of students from Britain is attributed to a sharp rise in university fees in the UK since 2012, capped at £9 000 for home students, and an increase in premium charges for foreign students. Strict visa regulations for Non-EU students in the UK might also have prompted many Indian students - for whom the UK has traditionally been a popular study destination – to look elsewhere in Europe.
In the meantime, WUAS is anticipating an almost 40% increase in the number of new students for 2015 while raising its international profile even higher. As one of the most diverse institutes of higher education in the Netherlands, the university's student and staff component now represents 70 different nationalities! 85% of its students are international.
The university's Registrar, Santosh Aryal, said in an interview last month that while Wittenborg has maintained a steady year-on-year growth of between 20 – 25%, it is this year aiming to reach an increase of 37%, in student numbers, citing a strong online presence as one of the factors driving success as well as outreach activities such as education fairs.
According to Nuffic the number of German students has decreased slightly (from 45% in 2011-12 to 37% in 2014-15) though they still constitute more than a third of all incoming students in Holland. However this loss has been compensated for with an increase of students from other countries. "The origin of foreign students in the Netherlands are becoming more and more diverse," the Nuffic-report reads. Between 2009 and 2015 the top 3 countries of origin for international students in Holland was Germany, China and Belgium.
Worldwide student mobility trends has indicated that Europe is the most popular study destination in the world while the highest number of international students are from China (16%). Per country, most international students go to the US (16%), the UK (12,6%), Germany (6,4%), France (6%) and Australia (5,5%), followed by Canada (4,9%).
*The findings in the report applies to publicly funded institutes of higher education in the Netherlands
Source: EP-Nuffic
WUP 19/10/2015
by Anesca Smith
©WUAS Press