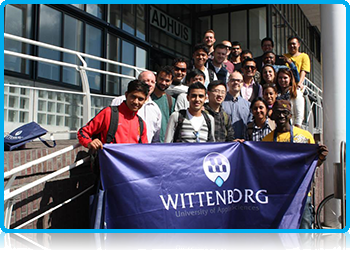 New students got a crash course in academic life at WUAS during Introduction Week with the institute recording yet another rise in the number of new admissions at the start of its academic year. Proving ever more popular is the university's Bachelor in International Hospitality Management for which almost a third of new students have registered with a good many showing interest in the EuroBA programme.
The EuroBA is a 3-year BA Hons degree in International Hospitality Management which affords students the opportunity to earn a degree from both Wittenborg and the University of Brighton in the UK. Students have the option to study the 180 EC credit programme in 4 different countries: the Netherlands, Germany, the UK and France. Wittenborg's registrar Santosh Aryal, said the number of new Bachelor students are standing at around 70 - at least 20% higher than last September, with still a few days left for new students to register. Last year around 20 extra students registered during the first week of Block 1. He attributes the growth to a change in advertising and marketing strategy as well as to the fact that the university's brand value is going up with each passing year.
"I hope we will reach the target we set for this calendar year", Aryal said. There is still two entry dates for 2014 - in October and December. New student Mariana Baptista, from Venezuela, says she will follow the EuroBA programme and that is one of the reasons why she chose to study at Wittenborg. She wishes to one day forge a career in the hospitality industry. Outside her studies, photography is one of her hobbies.
Marnix Doorman, another new student, is Dutch but lived for 15 years in Australia (and no, he is not a rugby fan). He will study for an IBA in Economics and Management. One of the main reasons he chose to study at Wittenborg is because of its English-taught programmes. He likes hockey.
This year, according to Aryal, there is a notably high number of Nepalese and Vietnamese students. The University will add a number of new nationalities to complement its already diverse student base while maintaining a steady flow of students from long established nodes like China and the Netherlands itself. New nationalities include students from Hungary, Rwanda, Poland and Venezuela.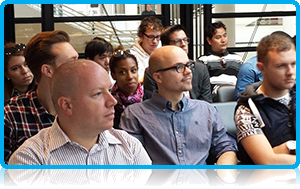 During the Introduction Week all staff members, lecturers, current and new students receive important information for the 2014-15 academic year. On Monday and Tuesday staff members were introduced to the new database systems, the new email and communication system and the goals and objectives for the coming year.
Wednesday the introduction for new students started with general information about programmes, timetables and other educational matters. On Thursday they met with their tutors in a one-on-one session. These tutor meetings are key to Wittenborg's awarded support system, giving students full control over their study programme at an early stage.
Of course the introduction does not only consist of information provision - on Thursday afternoon students, (new and current), staff members, lecturer, advisory board members and invigilators got together for a meet-and-greet evet and to celebrate the beginning of the new academic year. During the event, Wittenborg director Peter Birdsall welcomed everyone back after the holidays.
Friday morning new students joined a guided tour of the Apeldoorn City Centre followed by a welcome-speech by alderman Johan Kruithof at the Apeldoorn City Hall. After lunch the students were guided to the CODA museum where Madeleine Infeldt, Head of Public Communication of the European Commission Representation in the Netherlands, gave a presentation about the European Union and what it's advantages are for Wittenborg students.
Introduction Week officially ended at the local Bowling Alley where students got to know each other in an informal setting before they see each other in class next week.
WUP 29/8/2014
©WUAS Press
by Anesca Smith and Nicky van Riggelen