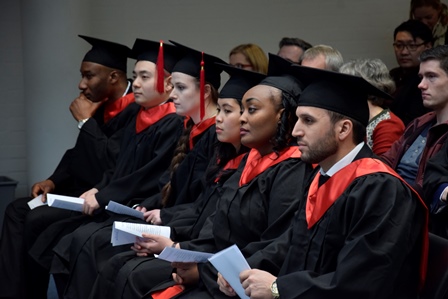 Dutch universities are increasingly picky about the quality of student they admit to their Master programmes.
The latest is Rotterdam School of Management, Erasmus University (RSM). The school has just announced that from September 2017 internal students with a bachelor degree from RSM or from Erasmus University Rotterdam will need a weighted Grade Point Average (GPA) of 7.0 or higher to be eligible for any one of RSM's master programmes. The move has been met with resistance in some quarters, not least of all students.
WUAS believes it has a less arbitrary and more supportive approach. Bachelor students who graduated from Wittenborg automatically qualify for admission to one of its 3 Master of Science degrees related to their studies. Wittenborg's Chair of the Executive Board, Peter Birdsall, said: "We don't feel the English Language Testing System (IELTS) requirement is sufficient, which is why we offer free English lessons at Wittenborg for those students who need additional support."
For entry into Wittenborg's MSc programmes or its MBA programme students need an overall IELTS score of 6.5 with at least a 6 in the writing component of the test.
In a press statement, Rotterdam says with the decision internal and external students hoping to study for a master degree are given a level playing field. "Until recently, bachelor graduates would automatically qualify for at least one master programme in the faculty at which they had studied. But a recent change in Dutch legislation has allowed Dutch universities to introduce selection criteria for internal students. Rotterdam School of Management, Erasmus University (RSM) is one of few schools or faculties in the Netherlands that is making all of its master programmes more selective in order to boost the quality of education."
Alternatively to the requisite GPA of 7, Rotterdam will accept a Graduate Management Admission Test (GMAT) score of 600 or more. These criteria already apply to bachelor graduates from other universities.
Besides Rotterdam, students from the Vrije Universiteit wishing to do a Master in Political Science also need to attain a 7 in their bachelor studies, the Volkskrant reports. Additionally, students are required to write a letter of motivation and prove their proficiency in English. The same goes for political science students at Leiden University. Other institutes of higher education in the Netherlands are reportedly considering the same policy.
by Anesca Smith