The School of Business Programmes:
The Wittenborg Master of Business Administration is an MBA degree primarily aimed at students with a non-business administration Bachelor degree, who have had at least 2 years of experience working in companies and organizations in a role that manages people or processes, or both. Candidates for the Wittenborg MBA will speak good English and have worked in an international environment. Request more information here.
Specialise your MBA: MBA in General Management, MBA in Entrepreneurship & Innovation, MBA in Hospitality Management!

The School of Hospitality & Tourism Programmes:
Full-time (Offered with the University of Brighton)
Part Time
(Offered with the University of Brighton)
Pre Master Combi-Package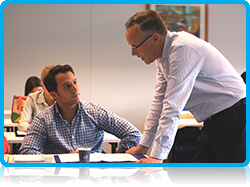 Take up the Master Challenge at Wittenborg
To meet the challenges of the global marketplace, Wittenborg University's Business School offers its Master programmes to provide international companies with graduates who have both international business and management skills, with foreign language and cross-cultural competencies. Wittenborg's programmes provide a truly international and multicultural learning environment which makes its graduates very attractive to potential employers worldwide. request more information or apply today!
Sustainable value creation: Wittenborg's Master Values
The managers of tomorrow will have to come to grips with a world economy that is increasingly shaped by the BRIC countries. For Western Europe and the United States of America this will mean major change and adaptation involving new competitive and collaborative arrangements. In previous decades the rise of shareholder value as a primary measure of company performance and the growing influence of the corporate governance movement have also had a strong impact on the way executives think and act. However, a rising world population and a growing production will make sustainable value creation a sine qua none. Short-termism and departmental thinking must be overcome and replaced by integrated strategic thinking for a sustainable future.