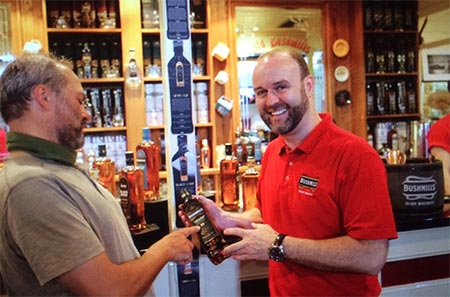 "You've heard about slow food? This is slow drinking."
This is how Wittenborg writer, Ben Birdsall, described his round-trip along the Irish coast the past 3 weeks cruising at 40km an hour on his 1979 Vespa while visiting whisky distilleries for his upcoming book on the topic. The book will be illustrated with his own paintings.
Birdsall was interviewed on Radio Dundalk FM on Wednesday morning where he was introduced to listeners as "a very interesting man who combines painting, writing, whisky and a wee bit of camping".
Birdsall reckons he visited about 22 existing distilleries and planned sites this summer. "Five years ago there was only about 4. This is definitely exciting times for the Irish whisky industry." On his trip Birdsall visited distilleries during the day, collecting samples and tasting them at the end of the day after getting off the road.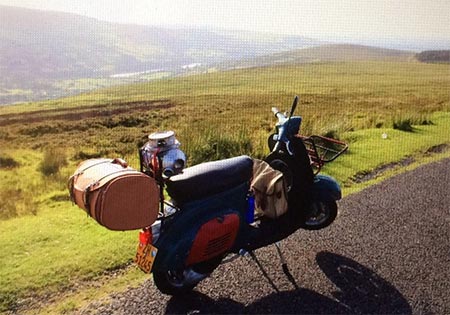 He concludes his trip on Saturday after starting off on 15 July. The book he plans to write is a sequel to his well-received travelogue/guide to Scottish whisky distilleries Whisky Burn – Distilleries of Scotland by Vespa which was published by WUAS Press (WUP).
According to Birdsall the trip went well save for a flat tyre coming out of Galway. "The Vespa also fell over once, breaking a wing mirror." Otherwise things went relatively smoothly.. He managed to do about 11 paintings. "I use oil paint so the rain just washes off."
He mostly camped outside except that one time: "I was coming into Cork and couldn't find camp site. It was getting dark suddenly the Vespa stopped right outside a pub. It was like it just gave up and decided this is where we're going to stay. Luckily there was a B&B close by. That was the only time I was not camping
How do Irish distilleries compare to the Scottish ones?
"I met more (distillery) owners this time. Scottish distilleries are mostly owned by multinationals. So they are different in that respect. Also, Irish whisky is not smoky."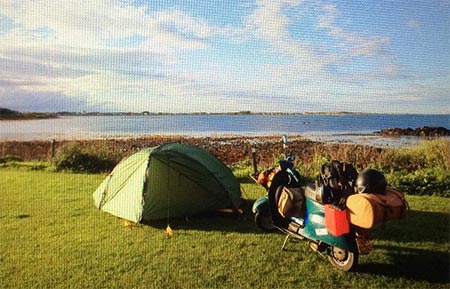 What were the highlights of his trip? "Meeting the people who work in the distilleries was definitely the highlight for me – meeting people making something now that will only be enjoyed in 10 to 15 years. Their dedication is amazing."
How does he take his whisky? "With a lot of rain at the moment! I like it neat. Depending on the strength, maybe with a few drops of water."
Birdsall anticipates his book on Irish distilleries will be published mid-2018. "It will not be ready for this Christmas, maybe the next one."