Wittenborg Welcomes New Students from 21 Countries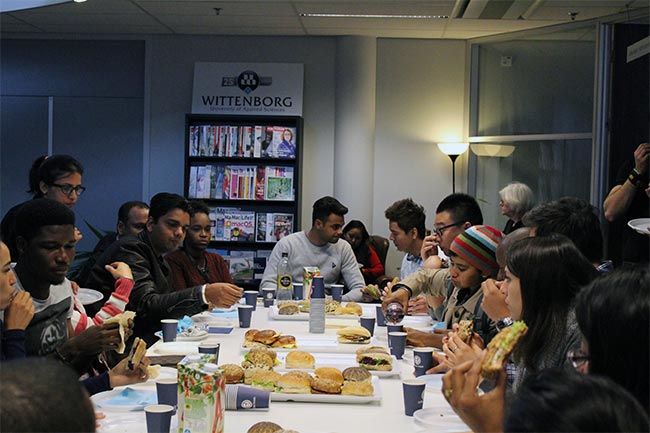 More than 50 new students from at least 21 nationalities will start their classes at WUAS on Monday.
On Wednesday the early arrivals enjoyed lunch with members of staff, including registrar Santosh Aryal who welcomed them as part of Introduction Week activities, which continued on Thursday.
Introduction Week is designed to familiarise new students with the wide array of academic, intellectual, leadership, cultural, and social experiences available at Wittenborg.
The new students are from Serbia, the Ukraine, Italy, Nepal, South Africa, Mexico, Bangladesh, Russia, Pakistan, Sri Lanka, Nigeria, Sierra Leone, China, Morocco, Iran, Algeria, Eritrea, India, Syria and Indonesia.
Aryal said: "We are pleased with the latest group of international students. There was definitely a rise in the number of students compared to February last year. This is a great start to the new year."
Phia Klopper from South Africa gained direct entry to the 3rd phase for the IBA programme in Marketing & Communication. Before coming to Holland, she studied Financial Planning in South Africa and worked as a financial advisor. "I took a gap year in Holland and just fell in love with the country." After her Bachelor she wants to do a Master degree and look for a job.
Romeissa Laib from Algeria says she chose to study in the Netherlands because she heard the country has one of the best education systems in the world. She is following an IBA in Marketing & Communication. Before coming here she did a language course in Germany for one year and, before that, lived for 2 years in Canada. After her studies she would like to go back to Canada.
Olanrewaju Oluwaseun David from Nigeria says he came to study in the Netherlands because he wanted a change. "I want to gain more experience in business." He currently lives in Apeldoorn at the Full Force Sports Academy campus and is following an IBA in Tourism Management.

WUP 13/2/2017
by Anesca Smith
©WUAS Press