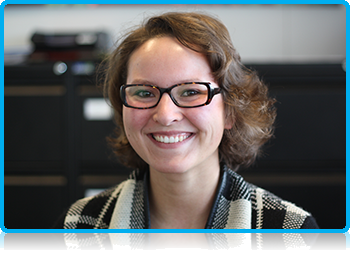 Anesca Smith talks to new staff member Florian Oosterberg - WUAS has a new student admissions administrator and China desk officer, Florian Oosterberg. In an interview the Dutch native explains how easy it was to learn Mandarin and dish out advice to international students on integrating into Dutch society but don't mess with her - she just started taking boxing lessons!
Hi Florian, where are you from?
I grew up in Vaassen, a small town near Apeldoorn.
Describe a typical day in your new position.
I collect the documents of prospective students, email them back about the application process and explain the next step in the process. I inform them of their study possibilities and answer any questions they might have. When all the required documents are completed, I update the student database.
What else does the job entail?
Arranging visas and residence permits, updating the student database, communicating with Dutch and international students as well as providing support to the back office. Right now I am still learning a lot about admissions and handling documents from prospective students.
What is your academic background?
I graduated in 2007 from the Stedelijk Gymnasium, Apeldoorn, and started that same year on my bachelor in Language and Culture of China at Leiden University. After obtaining my diploma, I went on an exchange year to the Republic of China (Taiwan) to study Mandarin. When I came back, I started with a Master in Chinese Studies at Leiden. At the moment I am busy finishing my thesis.
What was your first month at Wittenborg like?
The first month was exciting. All those new people to meet and so much information to process. It was quite overwhelming in the beginning, but I enjoyed it very much.
Why were you interested in Chinese studies?
I started to study Chinese because I have always enjoyed learning about Asian culture and learning new languages. I have been speaking it since 2007, when I started my studies, but I really learnt to speak Mandarin when I was living in Taiwan. To use Mandarin for your daily language, to express yourself to people who do not speak Dutch or English was a challenge.
Is Mandarin a difficult language to master?
The grammar is much easier than Dutch I believe, but the hardest part is learning the tones, because Mandarin is a tonal language. A word can mean something completely different when you use a different tone and it is easy to make a mistake with the tones. I believe when you learn a new language, you never stop learning. I try to speak Mandarin with my Chinese colleagues and friends every day, but I do not always have the time or the opportunity to do so.
What advice do you have for international students wishing to integrate themselves in Dutch society?
Make lots of Dutch friends, perhaps become a member of a Dutch student society and definitely try to learn the Dutch language. Eat with your Dutch friends, go to national holidays together etc. It will be a lot of fun and you learn a lot.
What do you for fun?
I like hanging with friends, cooking and reading a good detective novel. I also just started a beginner's course in boxing!
Finally, do you enjoy working in an international environment?
I do! It is interesting to talk with people coming from different cultures or countries, they might have a different view on things or a different way of handling things and I think that in an international environment, people can learn a lot from each other.
WUP 30/1/2014
Interview by Anesca Smith
©WUAS Press