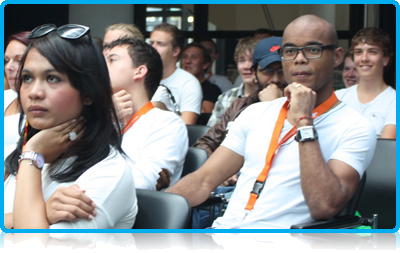 The Wittenborg admissions team is once again expecting to break records with the number of new students starting in September which kicks off the coming academic year. Bachelor admissions for October and December starts are also booming.
The University will add a number of new nationalities to complement its already diverse student base while maintaining a steady flow of students from long established nodes like China and the Netherlands itself.
Admissions for Wittenborg's master programmes will continue into September while the first block for the bachelor programmes start on 1 September, with further intakes in October and December.
For instance, the confirmed number of new Bachelor IBA students for block 1 reached 60 and counting this week – corresponding with last year's total new admissions for September. However, Wittenborg registrar Santosh Aryal, is expecting this number to rise with about 50% by the end of August. Admissions for all the university's programmes are still open, and with Bachelor entries in October and December, 2014 will set a new record for admissions.. "The admissions team has been very busy this summer and the trend will continue well into September. We are growing all the time."
Student intake for the university's three Master of Science programmes (Master of Science in International Hospitality Management; Master of Science in International Event Management; Master of Science in International Tourism Management) will only be assessed closer to the start of the programme on 29 September 2014.
In an interview Aryal ascribed the growth in student numbers to a new marketing and advertising strategy implemented this year although the university has seen continuous growth the past few years.
A high number of Nepalese students has applied and been admitted this year. New nationalities include students from Hungary, Rwanda, Poland and Venezuela. Wittenborg's marketing and communication officer, Nicky van Riggelen, added a high number of enquiries have also been received from the United States.
According to Aryal the Bachelor of International Hospitality Management is still the most popular programme at Wittenborg. He also pointed out that the number of EuroBA students have doubled this year. The EuroBA allows IBA Hospitality Management students to spend year 2 of their studies at a partner institute in Germany (ANGELL Business School) and year 3 at the University of Brighton in the UK and Ecole de Savignac in France.
Aryal says in conversations with new students he makes sure their expectations is in line with what Wittenborg has to offer.
WUP 18/8/2014
©WUAS Press
by Anesca Smith