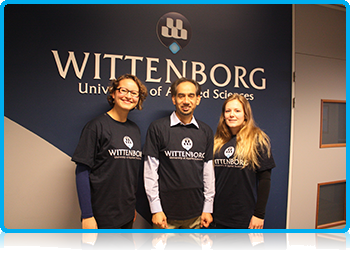 Several students and staff members of Wittenborg University will take part in the Apeldoorn Midwinter 'Marathon' on Sunday and they need your support!
More than 13 700 people are expected to take part in the race which features several courses. If you don't want to miss Wittenborg's winter warriors – who will take part in the 8km course - look out for participants wearing t-shirts bearing the university's logo. Remember, participants from abroad can collect their race number on the day itself at Orpheus Theatre & Conference Centre
Although 8km may not sound like a lot to the rest of us coach potatoes, doing any kind of running in winter is not easy – weather reports predict icy conditions for Sunday – which is they need all the support they can get.
The details of the programme are as follows:
14:00 - Wittenborg runners and fans amass at the Big Church on the corner of Loolaan and Kerklaan, Apeldoorn. Participants can pick up their T-shirts at this point.
14:15 – Group photo
15:00 – Start of Marathon in Loolaan
Supporters can cheer runners on at the following points:
· At the AGOVV traffic circle (at the end of Kennedy Laan)
· At the corner of Wildernislaan and 2de Beukenlaan
· De Naald
What motivated these runners to take part in the marathon? Wittenborg lecturer, Alexander Bauer, says he thinks it's fun to run in a group. "In Vienna I did a couple of city runs where people from different companies take part. You make a lot of business contacts that way and meet people in the industry. You have to train because you want to have a decent time. It's not so much about the timing, but more about the social aspect. I had a very irregular schedule, but I tried to run at least once a week this winter – depending on the weather and in the last two weeks it becomes more intensive."
*The results of the race will be announced online.
WUP 31/1/2015
©Wittenborg University Press
by Anesca Smith