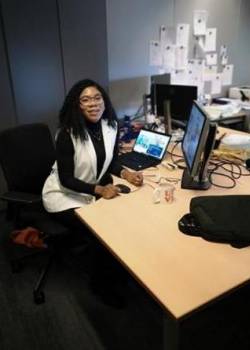 As Corona Economy Makes it Harder for Students to Find Internships, One Wittenborg Student Goes Old-School
Faced with the dilemma of finding an internship in the trying times of COVID-19, Wittenborg student Busola Awosika resorted to an unusual approach to find a work placement. Instead of applying online, which is how most vacancies are filled these days, she decided to go old-school and make a cold call to the company's headquarters in Arnhem. And it worked. This week she started as a marketing intern at the European Association of Urology, which represents urology professionals from around the world.
Busola is in her final year of doing an IBA in Marketing Communication & Information at WUAS. Originally from Nigeria, but living in the Netherlands for the past 3 years, she hopes to graduate early next year.
Facing many rejection letters for internships, Busola decided to change her approach to finding an internship. "I live close to the offices of the European Association of Urology in Arnhem and walked there one day. While at the reception I saw a lady, told her my background and about my search for an internship. It turned out she is the head of the association's Guidelines Office.
"After sending in my CV and application letter, I got a call from the human resources manager. Initially they were trying to find me a position in the marketing office, but there weren't any, so now I am the first marketing intern for the Guidelines Office.
"This is only my first week, but I have been overwhelmed by the kindness and goodwill of my colleagues. Everyone is willing to help and show me the ropes. There is a lot to learn – starting with an affinity for medical terms! The idea is for me to help with the reviewing of guidelines and making recommendations in communication."
A direct-entry student, Busola started her studies at Wittenborg in January, not imagining the wild ride that 2020 would turn out to be. "Yes, it has been difficult to be a student – especially at the beginning, but I am glad that I persisted in my studies." Her internship will be for a duration of 4 months before she enters the last lap of her studies.
WUP 13/10/2020
by Anesca Smith
©WUAS Press