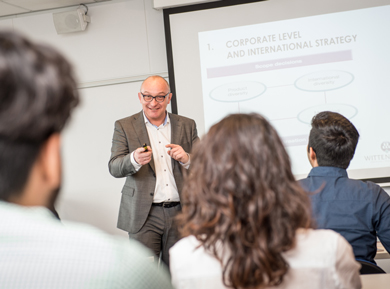 Want to pursue a master's degree in education? WUAS is pleased to announce that from September 2018 it will offer a Master of Arts (MA) in Education, drawing closer to its goal of creating a broad management university with 5 schools in the next 5 years, including a School of Education.
The programme will be offered full-time (1 year) as well as part-time (2-3 years). Students will learn through a mixture of lectures, taught sessions, tutorials, online learning, group work, independent study and through work-related activities. The programme reflects how practitioners are expected to work in wider networks with colleagues and alongside expert facilitators, including the university teaching team.
Wittenborg's chair of the executive board, Peter Birdsall, said the MA in Education will be offered jointly with its long term partner in the UK, the University of Brighton. It will be taught in Apeldoorn. According to him, its focus will be on practitioners from the education establishment in the Netherlands who might want to follow the programme part-time, and international students who could possibly be more interested in doing a full-time MA.
The programme will be geared to students who are interested in progressing towards a PhD in Education. Modules are designed to complement and extend students' professional commitments, and teaching and assignment submissions are scheduled to fit around their existing work.
Wittenborg's 10-year plan, unveiled in 2013, sees it aspiring to reach a total of 1,500 students. It also aims at growing into a broad university with 5 schools: School of Business, School of Hospitality, School of Education, School of Arts & Technology and a School of Health and Social Care.

WUP 28/12/2017
by James Wittenborg
©WUAS Press