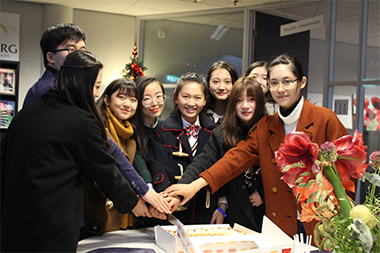 "I don't want to leave!" Chinese student Zhang Yutong exclaimed, as she and her fellow students from the Shanghai Business School enjoyed their last day at WUAS, after a weeklong visit to the Netherlands. They fly back to Shanghai on Saturday.
The group were treated to a luscious, specially designed cake with their photo on, as they said farewell to Wittenborg students and staff. Wittenborg's chair of the executive board, Peter Birdsall, invited them to come back any time, whether for a short or longer study period. "The aim of this visit is cultural exchange. It is about our students going to China and you coming here."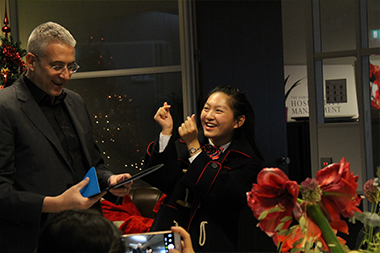 As one of Wittenborg's education partners, students from the Shanghai Business School get a special scholarship from Wittenborg: a deduction of €2,000 on tuition fee for one of the Master programmes.
During their week in the Netherlands, the group visited Wittenborg's locations in Apeldoorn and Amsterdam, as well as attending lectures and seeing tourist attractions like the royal summer residence, Het Loo Palace.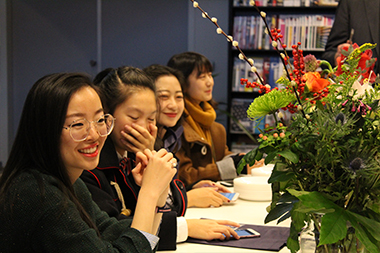 Another Chinese student, Lin Shengyin, said it was a pleasure to come to the Netherlands. "It has enriched our knowledge and was a very meaningful experience, which we will share with our classmates back home. And of course, we would like to invite you guys to come visit us."
As for Zhang Yutong, she says she will definitely come back.
WUP 15/12/2017
by Anesca Smith
©WUAS Press