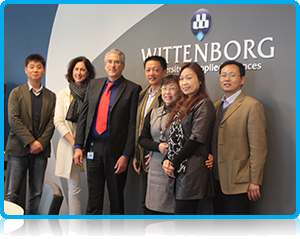 High-level education officials from the Shanghai Business School visited WUAS today and held talks in which an exciting new student exchange partnership between the two institutes was provisionally agreed on.
If all goes well, this means the first batch of hospitality-students from the Shanghai Business School will arrive in September 2015 to complete their final year of bachelor studies at Wittenborg and thereafter having the option to also complete a master degree at the university.
The China-group of five representatives were led by Zhong Youwei, assistant president at the Shanghai Business School which prides itself on having one of the best undergraduate hospitality programs in Shanghai, China's biggest city.
WUAS in turn offers two distinct programs in Hospitality Management: Students can follow a special 3-year International Hospitality Management Bachelor (Hons) called the EuroBA which affords them the opportunity to study one or two years at Wittenborg's partner campuses in Germany, France and the UK. Students can also follow a 3-year IBA either Hospitality Management or Sports & Events Management.
Youwei said currently students at the Shanghai Business have the option of doing the internship and dissertation required in their fourth (and final) year abroad. Morning discussions centered on the possibility of some of these students completing their final year at Wittenborg in the Netherlands and having the option of continuing with a master degree at Wittenborg. A preliminary agreement was reached by the afternoon.
This week's visit comes ahead of students from Wittenborg visiting the Shanghai Business School from the 31st of May until early June.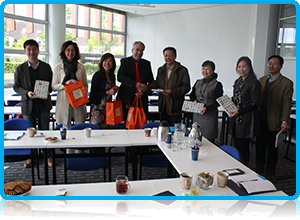 The group was welcomed by Wittenborg directors Peter Birdsall and Maggie Feng and kicked of with an exchange of gifts from both sides.
Birdsall said Wittenborg, which is growing its student base at a rate of about 20% per year and have many Chinese students currently studying at the institute, was interested in talking about how it can develop its partnership with the Shanghai Business School in the future.
"We are a small university, but with a distinct international character and we are looking at which programs would fit a worldwide market. Our 10-year plan will see us develop into five different schools – business, hospitality, art and technology, health care and education."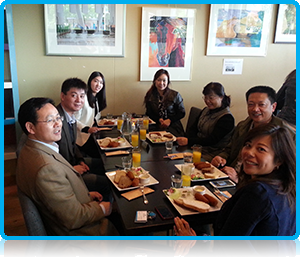 Wittenborg also hopes to launch its first MBA program - which is the process of being initially accredited by the German and Swiss Foundation for International Business Administration Accreditation (FIBAA) – in the 2014-15 academic year.
Shanghai Business School has approximately 11 000 students, 25 different programs and 8 colleges with a similar focus as Wittenborg.
According to Youwei it has also started attracting international students, notably from Germany, the Netherlands, Italy and Korea and was interested in exchanging information – particularly on professional methods – with Wittenborg.
Youwei also invited Birdsall and Wittenborg members of staff to visit the Shanghai Business School.
The delegation was given a tour of the Aventus campus, and discussed Wittenborg's expansion to the Spoorstraat location, on the other side of the railway in Apeldoorn, in the coming academic year. At lunchtime, the delegation, joined by director Maggie Feng and China Desk representative Myra Qiu, enjoyed a typical Dutch lunch of Croquettes.
WUP 7/5/2014
by Anesca Smith
©WUAS Press